Luxury means different things to different people, and it should. There is no cookie cutter way to describe it. In the eyewear industry, luxury presents itself as many things from diamonds to delivery service and everything in between, and offering top notch products and services can be key to setting your practice apart from the rest.
Luxury products
There are thousands of companies worldwide that refer to themselves as luxury. But a huge price tag, or designer name for that matter, does not equate to luxury. Luxury is about craftsmanship, the fit and the feeling you get when introduced to an extremely well-made product. In this digital age where most products can be found online, consumer spending is shifting towards 'experiences' rather than high-priced items. So, if you're heading down the luxury end of the market, educating yourself about what's on offer and why it's considered luxury is essential. Many of the most successful luxury companies recommend staff training before a collection is even placed on the shelf.
Jewellery collections - considered the upper calibre of all luxury eyewear, jewellery collections incorporating solid gold, platinum, jewels etc. target a specific customer. They are a great way to mark a special milestone in a customer's life, a wedding perhaps, or provide them with something to wear on very special evenings.
Gold and Wood Eyewear, featuring 18 karat gold, black diamonds and buffalo horn temples
Handcrafted wood
There are now several companies that offer handcrafted wooden eyewear, which is ideal for customers allergic to metal components and looking for something a little bit special. Wood eyewear is extremely lightweight and durable and, after you wear it for a while, acquires the best patina. These frames do require a small amount of maintenance, moisturising with beeswax or oil every so often, to maintain their lustre but, above all, they are often a conversation piece which gives their wearer the feeling of owning a very unique frame.
Tigre by Rolf Spectacles
Bling me beautiful
Bling is back. Nothing catches the eye like eyewear that sparkles. Where once-upon-a-time it was just your fancy aunt or grandma who'd swoon over bling, today many of the big fashion houses incorporate this sort of detail into many of their new releases, making these stunners far more appealing to a more youthful clientele.
There are a variety of price points and fabulous examples of this increasingly popular genre, but one of my favorites is Sospiri Eyewear. The frames are defined by the use of Swarovski crystals, Italian acetates and unique artistic embellishments. Whether ophthalmic or sun they make a wonderful addition to any eyewear wardrobe.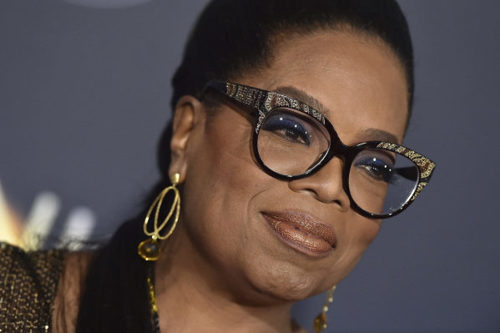 Oprah Winfrey wearing Sospiri
Bespoke eyewear
For the most discerning clientele, bespoke eyewear is the way to go. The time and effort it takes to create a custom pair of eyewear will be totally worth it when you deliver a masterpiece to your customer. Select your material, shape, color and ensure perfect fit. The process is long, however, with the average turnaround time from first fitting to dispensing being approximately three to four months, so it's not for the customer who requires instant gratification. But for the person who wants a one-of-a-kind product, it is the only way to go.
Luxury services
Luxury in eyewear isn't just about the frame and lens selection. Going above and beyond with the services you offer will make the buying experience a memorable one for your customer, converting a one-time customer into a lifetime supporter and setting your practice apart from others.
Custom lenses
Partnering with a lens laboratory that can work with quality frames is a must. Being able to confidently send your customer's new luxury frame to a place that will treat it with care and respect and provide the best finish will ease your mind and ensure the perfect outcome. Make sure the laboratory can fill all your customer's requests, such as unusual lens tinting or special treatments. Some of the very best lens companies can even provide custom lens shapes such as hearts and stars.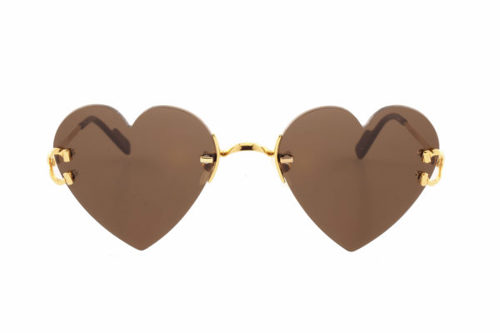 Delivering finished products
This is one area some ophthalmic practices overlook. Many places have a predominantly local clientele but at times you have to make concessions for customers who do not live in your immediate area or for local clients who cannot find time to collect their finished eyewear.
There are ways to plan for these scenarios. Firstly, make sure to pre-adjust the frame before sending it to the laboratory for lenses. Advise the lab the frame is pre-adjusted and to please proceed with caution. Second, make sure all shipping information is correct before the customer leaves your shop. If you need to deliver the glasses locally, advise the customer that they can return at any time for any adjustments needed. Lastly, prepare a shipping fee document that sales staff can refer to, so they are able to quote an accurate shipping charge.
Eyewear maintenance
Even the most-seasoned eyeglass wearer can use some help in caring for their eyewear. Having a How to care for your new eyewear pamphlet or card is a great tool to help your customer keep their eyewear looking and feeling as good as new. Some pointers here include:
How to handle exotic materials, such as wood or buffalo horn
The safest ways to clean your lenses
Storing your new eyewear
Providing or having eyeglass cleaners and cloths are a given for any practice. But luxury service offerings include offering high-quality customised cleaning kits, with your practice's name and logo. Making sure all your luxury frames have a sturdy storage case is also important, while custom-engraved eyewear cases also add a bit of luxury to your practice and help remind the customer where they purchased their wonderful new eyewear.
Thankyou card/email
Unfortunately, this is something that is not often done anymore but, in my mind, should be revisited and reintroduced. Receiving a handwritten thank you note in the mail is a gesture that will make your patient's shopping experience even more memorable. If handwriting is not feasible, a simple email acknowledgment works well too. The point is to make the customer 'feel' special. Let them know you are always here to help with their eyewear needs and that you are still thinking of them.
Consumers have been and are continuing to move slowly away from just shopping for products. When you can create an experience around the act of shopping for something that was once a tedious thing, like eyeglasses, you will create a newfound excitement in that task. It is a wonderful way to introduce the latest and greatest to your clientele.
The iconic luxury eyewear designer Christian Roth said it best, "More design than designer". As we find ourselves moving further away from big-name luxury brands, we must find a way to focus in on the idea that design, innovation and service is the future of luxury.
Cynthia Pizzini-Martin is a retired luxury eyewear executive residing in South East Asia, who enjoys writing  about all things optical and helping small businesses become bigger business with one on one consulting. For more, visit www.cpmretailconsulting.com