Bollé, Serengeti eco-launch
Leaning on designs driven by augmented reality (AR) and artificial intelligence(AI), Bollé Brands has launched eco-friendly sunglasses and cycling helmets.
Developing its Volt+ high-contrast lens, Bollé said it used AI to evaluate 20 million colour combinations before deciding on the perfect lens. It also introduced AR technology for virtual try-ons and to offer customers the experience of 'wearing' its top-of-the-line Phantom lens.
eco-nylon frames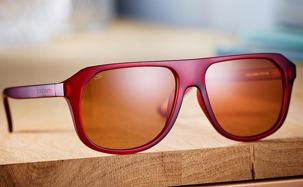 Bollé brand Serengeti's new eco-nylon frame material serves as the centrepiece of its new sport collection. "Climate change is the most important issue facing humanity and it's more important than ever before to ensure we take steps to minimise our ecological impact," said Arnaud Falce, Serengeti's creative director.
The sport styles are made from a polymer called Grilamid BTR, a sustainable substitute for TR90, the nylon material used in most frames. Grilamid BTR is extracted from castor plants and offers the same characteristics as TR90, including durability, flexibility and strength, but without the use of petrol, said Falce. "The effort to create sustainable products extends beyond frames as Serengeti has also committed to improve its packaging by using recycled kraft cardboard and PET (polyester), plant-based fibres and vegan leather cases."