A love of planes and frames
With a passion for aircraft and a large dose of Kiwi ingenuity, dispensing optician Daniel Walker decided to have a crack at designing his own eyewear. By Susanne Bradley.
It all started with the planes, says Walker. "I was involved in the model airplane scene here in Whangarei and fellow model enthusiast, Don Barker [a retired optometrist] mentioned they needed a technician at Lowes and Partners. I joined the team and ended up completing the University of New South Wales/TAFE certificate in optical dispensing in 1997."
Walker's frame making journey started 15 years ago and is, like his dispensing career, closely linked to aircraft. "I have always had an interest in aircraft and used to help out with aircraft restoration projects down in Auckland. Tinkering with planes is definitely right up my alley!"
When asked why he decided to design his own eyewear, Walker says he's always been a bit of a "do it yourself-er" and simply wanted to know if it could be done, especially given the lack of local designers and manufactures at the time.
"I thought 'how hard can it be?' and decided to give it a try. In the end, I learnt frame making is quite a labour-intensive exercise. I can see why a lot of it is set up offshore now."
Walker uses aircraft-grade aluminium for most of his frames. "I like the concept of aircraft; the frames are made of lightweight, strong material and are built purely for a purpose, yet can look like a piece of art. I also like the riveted look, just like an aircraft skin."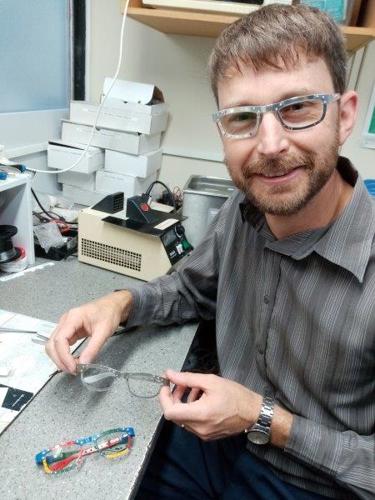 Daniel Walker in his workshop
Working with aluminium seemed straightforward enough to Walker, given his experience on restoration projects. "Metal and wire frames need to be soldered, which can be quite messy. I already knew how to work with aluminium and riveting, so it seemed natural to go with that."
He recycles his off-cuts from airplanes, saying it always gives him a bit of a kick wearing the frames and thinking another part of that aluminium sheet might be out there flying somewhere. "One of my designs is made from an off-cut from a plane that flew during World War II, the P40 Kittyhawk, which has turned it into quite a conversation piece." He also purchases old knitting needles from the local op shop and repurposes them to make rivets and screws, he says.
Model 6, made from WWII P40 Kittyhawk fighter
Recently, Walker has started using new materials. One design is made from the popular model construction system, Mechano, which he admits is a bit of an attention grabber.
He'd like 2020 to be the year when he has something to offer other people. "I've had a number of comments on these pairs, but I've never been able to call someone's bluff on whether they would actually be willing to pay money for a pair," he laughs.
Gearing up to producing a distributable range, Walker has digitised his most recent design and put it into a computer-aided design programme, which allows him to get the frames laser cut and reduces manual labour significantly, he says. With seven designs and 10 frames so far, Walker considers the P40 Kittyhawk, the Mechano frame and a polished aluminium frame, which is the same shape as the Mechano frame, his favourites. The Kittyhawk is particularly special because of its story, while the Mechano frame is his "cycling pair" which he wears every day, he says.
"I thought the polished aluminium was perhaps going to be too bright and blingy, but it also gathers its fair share of comments, and now I quite like it."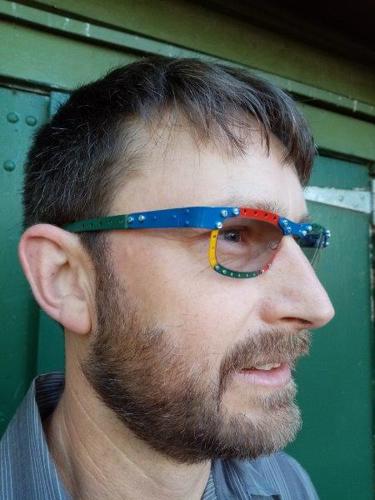 Daniel Walker in 'Mechano' model 1, with Transitions lenses
When asked who Walker would choose to make a pair of frames for, he says it would be great to design eyewear for someone like Taika Waititi, our home-grown Hollywood director who is now well-known on the world-stage. He says he feels Waititi may enjoy wearing something designed and made locally by a fellow Kiwi.
"The biggest kick though, I think, would be to make a piece for an ex-serviceman from the very same aluminium used on the plane they flew during a war. Sometimes veteran pilots are reunited with their restored planes and a pair of frames designed especially for them would give them something they can still use and take home."
In his everyday role as a dispensing optician, Walker says he gets great pleasure from meeting people and from enhancing their quality of life with the right, well-fitted eyewear. More than anything, listening is key to figuring out the right fit and frames for a customer, he says. "It's a requirement of the job to find out about people, learn about their interests and what they get up to. Getting this information right allows you to put the best solution together."