Though the 2020 Association for Research in Vision and Ophthalmology (ARVO) conference was cancelled due to Covid-19, those with accepted abstracts could submit video-recorded presentations and have them published in ARVO's IOVS (Investigative Ophthalmology and Visual Science) journal. The following are a few highlights:
DEX slow-release implant
Japanese researchers have unveiled a new approach for longer term, more effective delivery of dexamethasone (DEX) to the back of the eye to treat severe macular diseases. Their intra-choroidal sustained DEX implant through posterior scleral insertion technique resulted in an initial DEX burst within 24 hours followed by a gradual release over the next four weeks into the posterior retina, with no retinal abnormalities reported, said the authors. "This new system may be useful in adjusting the most effective and minimum medication to an individual patient."
Novel IOL research
A Spanish and Greek research team has developed a new type of intraocular lens (IOL) to provide better peripheral optical quality.
Current IOLs are designed to optimise focus at the eye's central retina overlooking their off-axis performance, leading to worse optical quality in the periphery of the retina in pseudophakic patients compared to the normal phakic eye, said Professor Pablo Artal from Murcia University.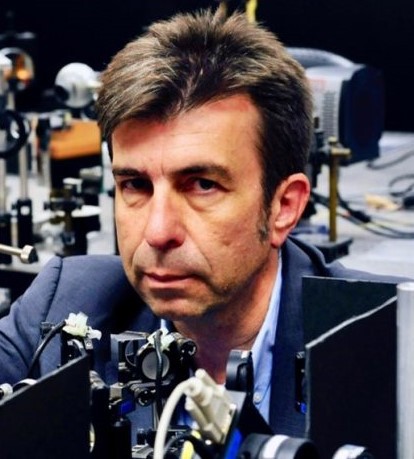 Prof Pablo Artal
The novel IOLs were manufactured and evaluated in a custom-built artificial eye with an inverted meniscus shape to improve the optical quality in the periphery of the visual field while remaining similar to standard IOLs on axis. A significant improvement in image quality was achieved.
Predicting perceived pain
New York-based researchers have discovered an association between self-reported anxiety and increased perceptions of pain due to anti-VEGF injections, suggesting screening questionnaires could help identify which patients were most likely to suffer from treatment-related pain.
Investigators also observed a negative correlation between pain and the previous night's sleep, but the only significant predictor of injection pain was patient anxiety, they said, with every one-point increase on the anxiety scale associated with a 0.11-point increase in pain after controlling for observed patient demographics and treatment history.
"Future studies of modifications that target anxiety may help address pain perception in this procedure," said lead researcher, Dr Joyce Mbekeani of the Albert Einstein College of Medicine.
Cartoon helps patch compliance
A four-minute, educational cartoon, narrated by a child, explaining the importance of wearing an eye patch significantly improved patch compliance among children with amblyopia.
The study enrolled children with a compliance rate of 50% or less and used a microsensor to measure compliance for four weeks. Average patch compliance improved from 28.13% to 62.84% and mean daily wear hours from 1.62 hours to 3.08 hours after watching the video. All children reported enjoying the video, said study lead, optometrist Saeed Aljohani from Salus University, Pennsylvania, in his ARVO presentation. "Our educational cartoon video is feasible for use in a clinical setting. We are continuing to collect data from a larger cohort."
Antihistamine releasing CLs
Johnson & Johnson Vision released research on its new antihistamine-releasing contact lens (etafilcon A with 0.019 mg ketotifen). Initial study results revealed that about 80% of the drug present in the lenses was released every hour, based on what remained over a five-hour period. The results were consistent with 15-minute onset and 12-hour duration of action efficacy results from previous studies.
For more, visit https://tinyurl.com/IOVS-abstract-issue