Anterior lamellar keratoplasty (ALK) has always been an attractive option for treating anterior corneal pathology, such as scars following trauma or infectious keratitis, and superficial corneal dystrophies. Removing only an anterior corneal lamella with retention of posterior corneal tissue allows for a stronger eye postoperatively, earlier suture removal and a considerably lower risk of graft rejection.
However, the procedure has had limited use because of poor visual outcomes due to the irregularity of the interface between the host and donor tissue which occurs with manual corneal dissection. It has also been difficult to get a good match between the architecture of the residual host corneal stroma and the donor corneal tissue using manual techniques.
The introduction of the Moria ALK system, using a mechanical LASIK-type microkeratome, an adjustable artificial anterior chamber to allow cutting of different sizes of donor corneal tissue, and different sizes of cutting heads for the host cornea, produced significantly better outcomes because of the smoother tissue interface produced. However, the technique is technically challenging and it is quite difficult to get a good match between the diameter of the donor tissue and the host corneal bed. I have carried out a number of ALK procedures using the Moria system but have been disappointed with the visual outcomes.
But the introduction of the femtosecond laser, primarily for performing LASIK and SMILE refractive surgery, has transformed ALK as a treatment for corneal disease. The speed and precision of femtosecond lasers when cutting corneal tissue results in an almost perfect match of diameter and thickness between the button of donor corneal tissue and the host stromal corneal bed. The interface is typically very smooth, maximising potential postoperative vision. In many cases, the procedure can be done under topical anaesthesia in an outpatient setting with no corneal sutures required. Finally, donor tissue with a low endothelial cell count, which might otherwise be discarded, can be used successfully. In the future, freeze-dried, tissue-engineered or xenograft tissue such as porcine cornea may also be used.
I started using the Visumax fs laser from Carl Zeiss Meditec for LASIK procedures in 2009 and performed my first femtosecond laser-assisted anterior lamellar keratoplasty (FALK) procedure in 2015. I have continued to perform the procedure for appropriate patients and have been very pleased with results so far. Here, I present two different cases as examples of the outcomes which can be achieved.
Case studies
Case 1: The patient was a 49 y/o man who worked in a metal working business and had sustained a metal foreign body injury to the centre of his left cornea two months prior to seeing. His left eye had a central superficial corneal stromal scar and a best-corrected acuity of only 6/24 (Fig 1 and 2).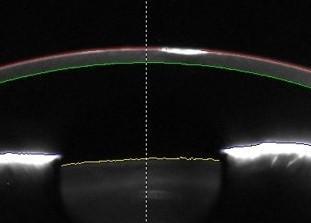 Fig 1. Scheimpflug image showing corneal opacity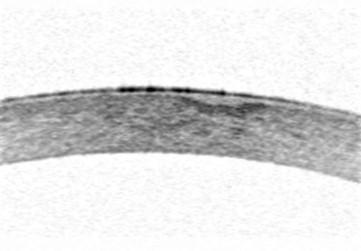 Fig 2. Anterior segment OCT image of opacity
His right eye was profoundly amblyopic with a corrected acuity of 6/120. With the hope that his vision would improve, treatment was deferred but by six months post-injury, his vision was worse and he was unable to work or drive. Because of factors related to his work, lifestyle and personality he was considered to be a poor candidate for a deep anterior lamellar keratoplasty, with a significant risk of further trauma to the eye and poor compliance with medications postoperatively. He was offered FALK and this was carried out 10 months after the initial injury.
The procedure was carried out in two stages. The lamellar dissection of the donor and host cornea was performed under topical anaesthesia in my laser clinic using the Visumax laser. The host cornea was cut to a depth of 220 microns and a diameter of 7.5mm while the tissue was cut to a thickness of 240 microns and a diameter of 7.7mm, slightly larger than the host bed to allow for reduction of tissue swelling in the donor tissue. The patient was transferred to a local private hospital where the procedure was completed under general anaesthetic. The donor corneal button was peeled off the donor corneal tissue, as was the superficial corneal tissue from the recipient cornea. The graft tissue was placed in the recipient stromal bed and secured with interrupted nylon sutures (Fig 3).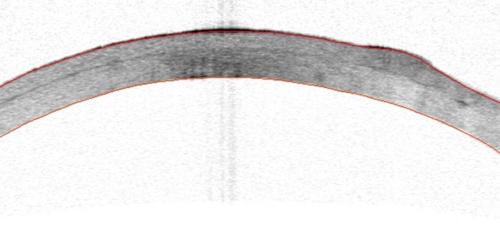 Fig 3. Postoperative OCT of cornea showing lamellar graft
Postoperative recovery was rapid and uneventful. By three months, half of the sutures had been removed and his corrected acuity was 6/9 with -0.5/-1.25x25. Remaining sutures were removed at four months and he was prescribed progressive lenses at five months. By six months postoperatively his acuity was 6/7 with +1.75/-1.0x45, he was back at work, driving and quite happy.
Case 2: This patient is a 41 y/o male with Reis Buckler's dystrophy (Fig 4 and 5A).
Fig 4. Slit lamp photo showing widespread corneal opacities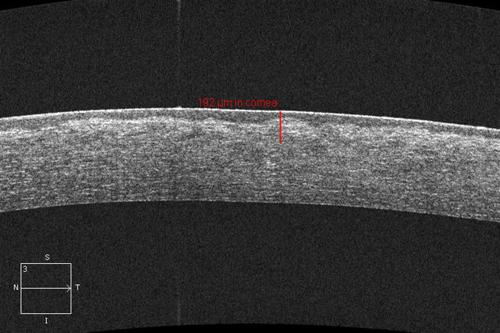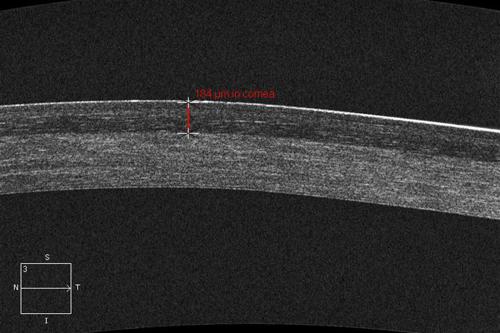 Fig 5A and B. Superficial stromal opacities and irregularity pre (top) and postoperatively (bottom)
When first seen, his BCVA was reduced to 6/12 in both eyes and he was experiencing significant visual symptoms. The left eye had subjectively poorer vision and was treated first. The depth of the corneal opacity was assessed using anterior segment OCT and used to determine the thickness of tissue removed from the recipient. The procedure was carried out under topical anaesthesia in my laser suite with no hospitalisation. The excised tissue was 180 microns thick and 7.5mm in diameter, while the donor tissue was cut slightly larger and thicker to allow for tissue shrinkage. The procedure was completed in 15 minutes. No corneal sutures were used but a bandage contact lens was applied to protect the cornea until graft epithelialisation was complete. The contact lens was removed at five days. By one week, unaided acuity was 6/20 and by one month, 6/10. At two months, his unaided acuity was 6/12 and corrected to 6/7. At seven months postoperatively, his unaided acuity was 6/10, improving to 6/7 with +1.0/-1.0x30 (Fig 5B). His left eye has continued to do well and the right eye had FALK performed in August 2018. Here is a link to a YouTube video of Case 2's FALK procedure: https://youtu.be/xGKf0mIjo_0
Conclusion
FALK is a fast, safe and simple procedure offering rapid visual rehabilitation in appropriate cases. It would not be financially viable to use a femtosecond laser purely for keratoplasty in a hospital setting, but FALK can easily be performed in a typical laser suite used for carrying out refractive surgery.
About the author
Dr Andrew Logan is a consultant ophthalmologist with the Wellington Eye Centre, specialising in the cornea and anterior segment and refractive surgery. He was the first surgeon to perform LASIK surgery in New Zealand in 1995, he introduced SMILE keyhole laser vision correction in 2014 and he continues to explore and introduce new technologies as they come available.