Assessing the value of virtual
Optometry Australia's (OA's) first online conference and product showcase Optometry Virtually Connected attracted more than 2,200 registrations, making it one of the largest optometric clinical conferences ever held in Australia and New Zealand.
The three-day virtual conference from 26-28 June was borne out of necessity due to current Covid-19 travel and physical distancing measures. But the online medium might be here to stay as there has been increasing demand for better accessibility to optometric education in the region, especially as many practices are now open seven days a week, making it hard to take time off or forgo family commitments. This is particularly true for unplanned incidents. Sadly, a family member of mine passed the day before this conference, but as it was online with many of the sessions on demand, I was still able to participate in much of it which wouldn't have been possible at a physical conference.
Even so, there will always be teething issues. Technical issues are a given as it's a new medium with a lot of variabilities. Several of the live programme sessions had multiple speakers, each operating from home on their own PCs, so there were problems, but these were handled well by the session moderators, speakers themselves and the organisers. The 'chat lounge' mediators were also very responsive to attendees' (mainly and many technical) issues. I also found it relatively easy to download the slides from the live lectures and there was an adequate window of time to answer questions to gain the full complement of CPD points.
Limitations and frustrations
However, for me, this new style of event had some limitations. For instance, there were 22.5 CPD points available over the course of the three-day event, while the 2019 O=Mega conference event, also held over three days, had 48 points available. Even worse, the Super Sunday conference in March this year had 30 points up for grabs in just one day. So, one could argue for those with less time, Optometry Virtually Connected might not have been the most efficient way to gain accreditation points, especially as only five of the 22.5 points available were for therapeutics. 
Across the three days, there were four live lectures and seven on-demand lectures which you could access at any time during the three-day window. These on-demand webcasts were delivered by OA's Institute of Excellence. An average of 230 people viewed each of these CPD webcasts. But, with the exception of the Optometry Board of Australia's lecture on CPD changes, which wasn't even relevant to New Zealanders, and some non-clinical lectures on crisis communication and the like, these webcasts were simply recordings of old lectures presented by Optometry Australia in the past; some dating back to 2017!
Whilst the topics seemed interesting enough – it was the regular cocktail of AMD, dry eye and low vision – it wasn't new research or reasoning and, at times, felt outdated or too simplistic (eg. describing AMD grading and the basics of Australia's National Disability Insurance Scheme funding). There was also no CPD quizzes available for these on-demand lectures, so there was no engagement; these were simply unlisted videos on Youtube, accessible to anyone with the link, conference attendee or not. Personally, I would have loved to see some more exclusivity with the on-demand sessions, with new or more relevant content that was more engaging and clinically useful. A virtual conference should have more room for creativity and diversity, rather than less.
But pearls nonetheless
Regardless of this, there were some great pearls at this conference. Pauline Xu and Sophia Zhang from the Centre for Eye Health's (CFEF's) masterclass on optical coherence tomography (OCT) and macular disease found its way into my clinical practise that very week in a teaching clinic for Melbourne University students. One of my students had a patient with a hyperreflective plaque at the level of the inner nuclear layer (INL), sparing the outer retina due to ischaemia of the intermediate and deep capillary plexus. We knew to identify this as paracentral acute middle maculopathy (PAMM) and, as this is, as Pauline had said, an often-overlooked sign of ischaemia (and not a disease!), we investigated the potential, local retinal vasculature causes as well as extrinsic ones. In this case, the PAMM seemed most likely secondary to a recent influenza vaccination the patient had had, but we are still sending the patient back to their GP for a vascular work up.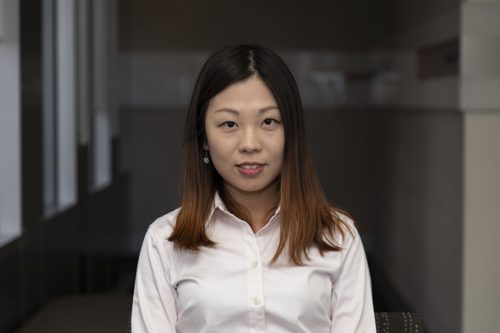 Pauline Xu, CFEF lead clinician (retinal dystrophies)
The OCT masterclass and Meri Galoyan and Gonzalo Jacome's lecture on Vascular myths both provided biomarkers to help identify the prognosis and review times for different retinal conditions. Particularly useful take-homes were how to identify hyper-reflective foci (HRF), disorganisation of the inner retinal layers (DRIL) and ellipsoid zone (EZ) disruption in macula OCT scans as these are useful predictors of progression, severity and visual outcome for different macular conditions, including diabetic macular oedema (DMO). For instance, subjects with DMO without the presence of these biomarkers, and with good visual acuity, have a lesser likelihood of progression of diabetic retinopathy (DR) in 12 months than in patients who do present with these markers. These patients can be observed and referred to an ophthalmologist for anti-VEGF therapy once these combined biomarkers are observed. One study also revealed that subjects with combined HRF, DRIL and EZ disruption had a good visual acuity outcome when treated with anti-VEGF therapy.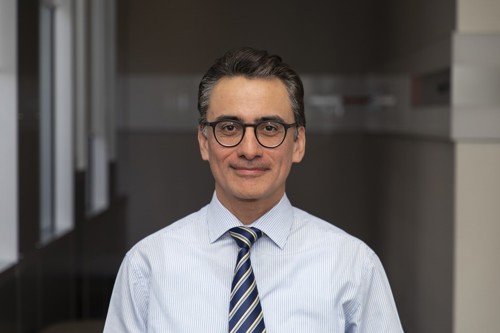 Gonzalo Jacome, CFEH senior staff optometrist
A few of the lectures also discussed OCT angiography (OCTA), illustrating how traditionally indocyanine green angiography (ICGA) had been used to study choroidal circulation, but now OCTA allows us to map both retinal and choroidal vasculature, non-invasively in seconds, without the use of intravenous dye. It doesn't map vascular leakage, however, but it does map out areas of capillary non-perfusion, including the size and shape of a patient's foveal avascular zone, which is relevant to the assessment of ischaemic effects and risk of progression of DR; enhance the contrast between microaneurisms and neovascularisation; and allow us to view structural vascular information and functional blood flow. 
Enhanced depth imaging (EDI) OCT was also discussed as was its ability to allow the pachychoroid disease spectrum to be better identified. The spectrum spans focal or diffuse choroidal thickening (>390um), dilated choroidal vessels, attenuation of choriocapillaris due to compression by the former vasculature, pachychoroid pigment epitheliopathy (PPE), central serous retinopathy (CSR) and polypoidal choroidal vasculopathy. Many patients in the past who were considered to have idiopathic choroidal neovascularisation (CNV) are now recognised as having PPE.
In conclusion

Overall, Optometry Virtually Connected was a trailblazer of an event, offering access at home or in-office to some of the advancements within optometry. There is plenty of room for growth for more progressive and engaging content, but it was still one giant leap forward for optometry education for a far wider audience.
Layal Naji is a staff optometrist with the Australian College of Optometry and co-founder of the outreach optometry clinic at the Asylum Seekers Centre in Newtown, Sydney.