Blind Foundation's new chair
After nine years as chair and 11 years on the board, Rick Hoskin is retiring from the Royal New Zealand Foundation of the Blind's board.  
Acknowledging Hoskin's passion and commitment to the charity and its working body, Blind Low Vision New Zealand (BLVNZ), John Mulka, BLVNZ CEO, thanked Hoskin for his many significant contributions and wished him well in his retirement. "Being a client of BLVNZ since he was 17 years old, Hoskin has been a passionate advocate for blind, deafblind and low vision people."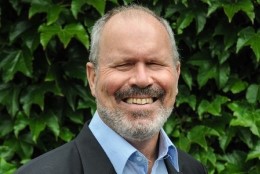 Rick Hoskin
Replacing Hoskin as chair, Foundation board member Judy Small has been a client of BLVNZ since she was four. Currently Hamilton City Council's disability and older persons advisor, Small worked as a policy analyst for 12 years in the government's Office for Disability Issues and served on the Blind Citizens New Zealand National Executive.   
Fraser Alexander, who joined the board in November 2017, will be deputy chair.