Magical metal makes a come back
Anyone who's been in the eyewear industry, or any occupation related to fashion for that matter, for any length of time, know styles are cyclical. People who grew up in the 1950s and 1960s and needed vision correction more than likely wore cat-eye shapes or clubmaster styles, and they always tend to laugh with familiarity when they see these looks displayed as the latest new thing in their local optometrists.
Millennials who wore glasses in middle school, more than likely weren't thrilled with round frames that typically had a faux tortoise shell print on them. But, at the time, there wasn't much else to choose from. Imagine their surprise when they see these exact frames making a comeback and turning into eyewear's latest trend!
On a broader scale, bold acetate frames have been the go-to for the visually impaired for many years, and while the styles have slightly changed, the overall feel has not. Maybe you've already started to see the shift, but if you're not following eyewear trends closely, get ready for what will seem like a surprising jump in a completely opposite direction.
Retro shapes are coming back into mainstream fashion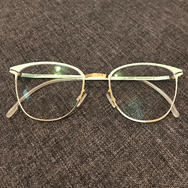 Retro shapes are coming back into mainstream fashion
Metal's making a return
For years, optical professionals touted the strength and durability of acetate frames and when this functional aspect blended in with the ability to choose from a variety of unique colors and designs, it's no surprise plastic became the popular choice.
But today, eyewear manufacturers across the globe seemed to have finally cracked the code when it comes to metal frames and are now starting to offer styles that vastly outperform the lifespan of their zyl counterparts and bring bold looks of their own.
Here's a few of my top picks today.
Mykita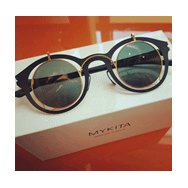 Berlin designers have an edgy interpretation of metal frames
Luxury eyewear shops around the world often boast that Mykita is one of their best-selling brands due to its clean design and incredible flexibility. When wearing glasses goes beyond just a fashion statement and wearers place an emphasis on all-day comfort, perceptions about metal frames seem to shift.
From bold sunglasses to the ability to combine beautiful colors for a pretty and delicate look, this German eyewear company takes its craft seriously. Offering frames suitable for men, women and children, Mykita has begun to revolutionise the future of fashionable frames.
Berlin designers have an edgy
interpretation of what metal
frames should look like
ProDesign
A staple for many optometrists and patients alike, the selection from ProDesign continues to show us that the future of fashion is in metals. People who are looking for elegant frames with intricate leaf work on the temples or those who want outrageous colors like lime green or hot pink can get exactly what they want from ProDesign's collection.
Usually, ProDesign lovers tend to be bold and it's not uncommon to encounter them saying they are on their fifth or sixth pair of these Danish beauties, so they are also quite possibly early adopters of this growing metal eyewear fashion.
DITA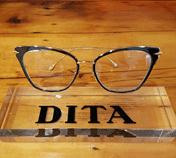 Genuine gold adds to the detailed metal work
Tracing back to its Italian roots of high quality and luxury, Dita also seems to be on the forefront of fashion, using elegant finishes and materials to make metals feel truly sublime.
People who love craftsmanship sometimes simply don't get it when it comes to acetate frames. 
But with Dita, each hinge itself is made using over 40 pieces, often crafted from 14K gold. Just like other boutique eyewear brands, patients certainly get what they pay for (and pay for what they get) when it comes to this brand. But, just like the fans of ProDesign, die-hard lovers of Dita don't seem to flinch at the price point.
Genuine gold adds to the detailed metal work
Part of the company's strategy, that seems to really work, comes from morphing supple metals into retro shapes that strike a chord with anyone who has a penchant for vintage eyewear. Dita isn't afraid to go big and bold with its metal collection and is certainly at the forefront of today's metal eyewear collections.
A time and a place
The craftsmanship and creative designs displayed in today's metal frames shouldn't be underplayed, yet at the same time, it's not like plastic styles are going by the wayside either. Plenty of eyewear manufacturers rely on bold and dark frames as staple pieces, but the increased appeal of metal frames just can't be ignored.
As a glasses wearer of 20+ years and a gal who has always adored her plastic frames, I actually happily added a metal frame to my collection last year. It took some time getting used to nosepads, but it's infused an entirely new element to my style that allows me to change things up when I want to. If it wasn't for the new and innovative styles that I see from various brands across the world, I doubt I would've strayed from my tried and true acetates.
*Courtney Elder has more than 10 years of optical experience and loves wearing fashionable eyewear in Portland, OR, USA. Today she owns a content creation company with her husband. Visit www.author-eyes.com for more info.