Molteno sold to Nova Eye Medical
Well-known Kiwi glaucoma drainage device company Molteno Ophthalmic has been bought by Nova Eye Medical (formerly Ellex Medical Lasers).
The company was founded by ophthalmologist Professor Anthony Molteno, head of ophthalmology at the University of Otago Dunedin School of Medicine from 1987 to 2014, who achieved international recognition for developing the world's first glaucoma drainage implant and his glaucoma-focused research.
Still considered the gold standard, Molteno glaucoma implants are the most studied glaucoma drainage devices (GDDs) in the world and will continue to be produced in the company's purpose-built facility In Dunedin after the acquisition, said Dr Nina Molteno, daughter of Prof Molteno and a former GP who became head of the family firm in 2016.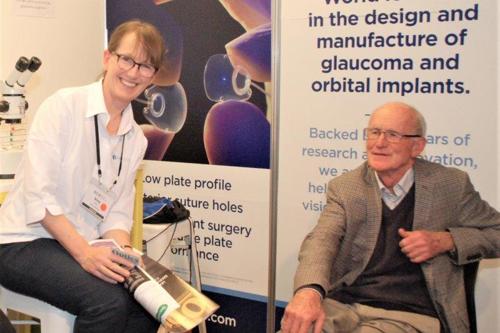 Dr Nina Molteno and Prof Anthony Molteno at the 2016 RANZCO NZ meeting in Dunedin
"We're very pleased that Molteno Ophthalmic is staying right here in Dunedin. We have a very experienced, highly skilled workforce, a class 7 cleanroom and a quality system certified for medical device manufacture."
The Nova Eye research and development team, based in Adelaide, will be collaborating on design and development of new devices, said Dr Molteno. "There was immediate recognition that our two companies shared common values and goals and that we had complementary glaucoma treatment devices that would fit well as part of a glaucoma treatment portfolio."
Nova Eye officially took control of Molteno Ophthalmic at the end of July, but the two companies have been working together since March on a plan to relaunch the Molteno3 GDD series in the US after training the company's iTrack sales force. Nova Eye's minimally invasive glaucoma surgery device, iTrack is the company's flagship product following the sale of its Ellex lasers and ultrasound business for A$100 million to Quantel Medical earlier this year, leading to the name change.
The acquisition of Molteno Ophthalmic supports Nova Eye's strategy to develop a comprehensive suite of glaucoma treatment technologies, said Joe Bankovich, president of Nova Eye Medical.
"Molteno has the longest and most comprehensive history of any of the GDDs available on the market. With the Molteno3, we will be able to offer our ophthalmologist customers a portfolio of treatment technologies that cover all stages of the glaucoma disease process, starting with our atraumatic and tissue sparing ab-interno iTrack canal-based glaucoma surgery for cases of mild-moderate glaucoma."
Dr Molteno will remain with the company as a consultant to support the transition and help with training and other projects. "The professionalism and resources of Nova Eye are very impressive, and we are confident that the Molteno3 devices and the Molteno name are in very good hands," she said.