Opti vs Silmo trends heading our way
Silmo Paris 2018 feels like a lifetime ago now, but it only took place from 28 September to 1 October last year. Move forward three months to its German rival, Opti Munich, which took place from 25-27
January 2019, and there were already some noticeable trend differences.
I attended both shows and they attract a different type of audience in terms of exhibitors and buyers. Which show is better, I hear you ask? That's the million-dollar question and not one I'm even going to attempt to answer as I'm all about the eyewear and both shows offer a wide range of cool brands.
There were some key trends I picked up from both shows, but I will focus on just two from each in this article, otherwise we may be here for a while!
Alternative nose bridges and upside-down frames
Silmo Paris is one of the biggest European shows and has been running for over 50 years. Many brands use this show as a platform to launch new designs for the coming year, therefore, it is a great opportunity to spot the latest trends. There were two that really stood out to me from the most recent show: alternative nose bridges and the upside-down frame.
What I mean by an alternative nose bridge is that the design of the bridge area is breaking away from just your standard-looking bar across. The bridge is normally an undervalued area, yet it is highly visible being slap bang in the middle of your face; you simply can't miss it. So, by adding details in this area, designers can give their frames some real 'wow' factor to help them stand out from the crowd. Stand outs for me at Silmo18 included Masahiro Maruyama, GSpectacles and Nature of Reality Eyewear.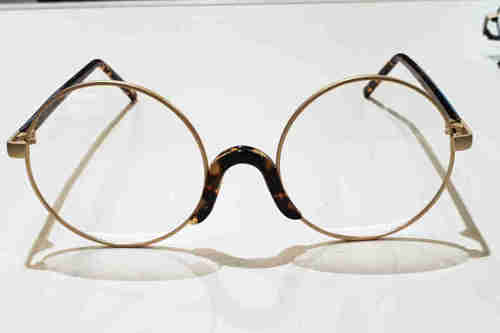 Alternative bridge: GSpectacles
Next up from Silmo is the upside-down frame. This trend is moving away from the conventional way of designing. Normally, with a semi-rim frame, the rim is always at the top but not in this trend. Designers are beginning to spice things up a little more, putting the rim at the bottom. GSpectacles again provides a cool example of this new trend in action.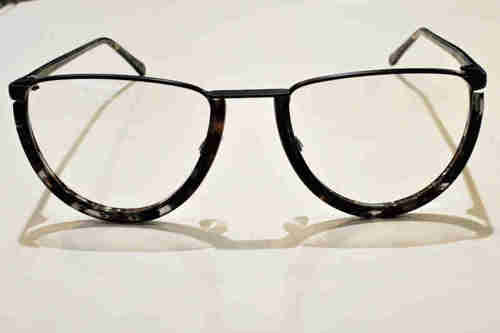 Upside down: GSpectacles
We are also seeing more full-rim frames adopting this idea, with the bottom rim being thicker and more pulled-up towards the nose bridge area, making it really obvious this is the designer's intention. Metronome was one brand I spotted showing off its ingenuity in this area. This trend is either a 'love it or hate it' kind of thing because it can make the frame look a bit odd. But, for any wearer who wishes to turn heads, this trend will certainly achieve that.
Irregular and a return to narrow
Moving forward three months to Opti Munich 2019 and what leaped out at me were the high number of interesting irregular shapes. Traditional glasses are based around three basic shapes: round, rectangular and triangular. But this trend is paving way the for all sorts of weird and wonderful shapes coming through. At Silmo there was a plethora of polygons (hexagons, octagons etc.) but at Opti we saw this trend taking a new direction to something a bit different, oval and misshapen rectangular shapes with a twist.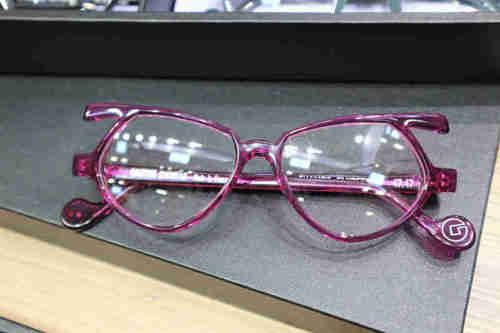 Irregular shape: Gaston Eyewear
Hexagons are actually quite wearable and we are seeing this trend appearing more often in both metal and plastic frame, but really there's something to suit everyone. So, if your customer is bored of their normal shape, offer them this trend as an alternative to refresh their look.
The second trend that jumped out to me from Opti is the return to narrow. I know this started back in 2018, but for 2019 there's been a bit of a refresh. In 2018, it was all about sunglasses, it was smaller and more about the cat-eye shape. For 2019, there's a renewed focus on optical, they are slightly less narrow and have been rounded-off to provide wearers with a more oval shape.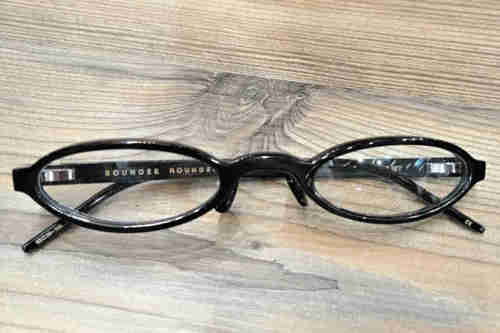 The Narrow: Rounder Rounder
So what's hot and what's not?
To sum up, what's hot for 2019? For this season, it's very much about taking traditional design methods and turning them into a quirkier versions.
As to what's going out? I would say vibrant tinted sunglasses, the yellow, orange and pink tints are definitely heading towards yesterday. But as their more vibrant cousins fade away, 2019 is also welcoming a new wave of tinted glasses, more toned down and much more wearable; not at all "scary" for the mass market.
So, shapes may be pushing the boundaries this year, but tints are heading back down to earth.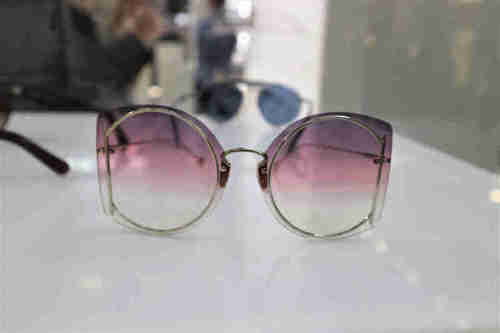 Tinted: Salvatore Ferragamo
Whether you dig the trends or hate them, they are worth investigating for your practice. There are so many brands out there and they all offer different variations of the trends, so there is something for every taste and budget. The problem is deciding which ones are best for your customers, but that can be a fun problem to have!
Siu-Yin Shing is an eyewear blogger born in Hong Kong, but now based in the UK. She founded her blog, MyGlassesAndMe.co.uk, seven years ago to cover eyewear, fashion and everything in between that concerns specs wearers. She has over 30 pairs of glasses and so many sunglasses she's lost count, but says she still likes nothing more than growing her collection.
For more on Silmo Paris 2018, visit www.eyeonoptics.co.nz/articles/archive/silmo-2018-a-kaleidoscope-of-colour-shapes-and-style/ or see November and December's issues of NZ Optics