SCC7: clinical wisdom and positioning
The seventh Specsavers Clinical Conference (SCC7) at the Melbourne Convention Centre in September was a far bigger affair than previous years. The half-day workshops on the Saturday, introduced just a few years ago, proved so popular that Saturday has now become a full day, while the traditional Saturday welcome drinks has been replaced by a celebratory sit-down dinner, complete with awards.
In total, SCC7 comprised 10 main sessions covering a wide range of clinical content from the latest on glaucoma and diabetic retinopathy to corneal lesions, ocular tumours, genetics and what to watch out for with red eye. Attendee numbers were also up, with more than 700 optometrists and others, from Specsavers and from outside Specsavers, attending the two-day conference which had 12.5 NZ CD/general points on offer.
Day 1: glaucoma, DR and corneal lesions
The first day of the conference was hosted by Ben Ashby, Specsavers' optometry development manager, who welcomed everyone to the conference with some impressive statistics. By this time, next year, the optometrists present would have performed more than 7.7 million eye examinations, coming across 40,000 patients with glaucoma; 200,000 diabetics, 50,000 of which will have some form of retinopathy; and 150,000 patients with age-related macular degeneration. Better and earlier diagnosis and knowing when to refer is crucial to looking after these patients, said Ashby, which pretty-much summed up the main themes of this year's conference.
Two speakers on the first day tackled glaucoma, Dr Simon Skalicky and Dr Tru Tran, both Melbourne-based ophthalmologists and both actively involved in training. Both stressed the importance of a personalised approach for today's glaucoma patient as there are a number of different treatments now available, which need to be selected based on the stage and progression of a patient's glaucoma and their lifestyle and approach to different treatment regimes. To do this well the ophthalmologist, the optometrist and the patient must work as a team, said Dr Skalicky. "It's not good enough to have a didactic approach to patient care in glaucoma. That doesn't work in 2018."
Dr Skalicky and Dr Tran included a number of case studies in their talks, with Dr Tran running a very practical quiz, demonstrating how misleading optical coherence tomography (OCT) data and images can sometimes be, compared with optic disc photography and visual field analyses.
When it comes to treatment options, especially for those patients where drops aren't working, selective laser trabeculoplasty (SLT) is good for patients with dry eye or who wear contact lenses. It results in fewer ocular surface symptoms, negates drop compliance issues and can be cost effective, compared with ongoing drop regimes, said Dr Skalicky. The iStent is another good option, but only as part of cataract surgery as it's not effective enough to warrant surgery on its own, he added. "Remember, for glaucoma we are treating the future, not the past."
Vitreous and retina surgeon Dr Erwin Groeneveld, a founding member and director of the Queensland Eye Hospital, tackled the tricky business of detecting and managing diabetic retinopathy (DR), illustrating his talk with some fascinating case studies. The prevalence of diabetes in Australia and New Zealand is about 8%, but up to 50% of cases are not diagnosed. Of those who are, more than a quarter will have signs of retinopathy, a significant proportion of which will progress to develop vision-threatening disease. Like glaucoma it's vital to work collaboratively to best treat diabetic patients and catch retinopathy early, said Dr Groeneveld. "Don't be shy about involving other people… GPs, dieticians and carers. Often it's asymptomatic so we need to educate them."
The duration of a patient's diabetes, not their age, is the strongest predictor of the development and progression of retinopathy, while HbA1c, denoting blood sugar levels, is the most important modifiable risk factor for DR, with progression increasing steeply with each 1% increase in HbA1c. Patients should be screened for DR as soon as type 2 diabetes is diagnosed, said Dr Groeneveld. As for treatment, fenofibrate has been shown to reduce progression of DR, while laser therapy, intraocular injections and vitrectomy can be used to treat vision-threatening DR.
The last speaker on the Saturday, Dr Chameen Samarawickrama from Sydney, provided a fascinating talk that took an in-depth look at diagnosing corneal lesions, differentiating between infective and inflammatory, bacterial and fungal. It's critically important to have detailed systems in place to examine all possible causes and know what tests to do to make sure you don't miss or overlook anything in a diagnosis, he explained.
Other key take home messages included: microbial keratitis is common and likely to present to an optometrist as the first port of call; in a typical case of bacterial keratitis (small, sudden onset, specific identifiable risk factors), the best empirical evidence is ofloxacin drops; for non-typical cases (large, no known risk factors, variable onset), it is better to refer without prescribing antibiotics to allow for an effective diagnostic investigation scrape.
Day 2: glaucoma, red eye, tumours, genes and kids
The second day of conference opened with the unveiling of Specsavers' thought-provoking new "priceless eyes" advertising campaign, in which several members of the public are asked how much they would sell their eyes (and thus their sight) for. When the ruse is uncovered, the ad encourages viewers - of whom about 40% neglect to get their eyes checked regularly - to book an eye exam.
If that wasn't enough to drive the message home, Specsavers' optometry director Peter Larsen then unveiled Specsavers' inaugural State of the Nation Eye Health Report, which revealed the company's initial findings about the state of the region's eye health since it began rolling out OCTs, Oculo and the RANZCO referral guidelines to its stores (see side story). Coming to grips with the true state of the region's eye health* is vital if governments are to support better treatment regimes, he said.
New Zealand ophthalmologist Dr Jesse Gale, a Wellington-based neuro-ophthalmic specialist, then discussed OCT scans. It is crucial to correctly categorise glaucoma risk to enable the best treatment and management, he said, adding that false positives and negatives can largely be avoided with visual field tests and clinical assessment.
Associate Professor Colin Chan from the University of Canberra tackled red eye. While optometrists would often encounter red eye, there were times when it was critical to diagnose and treat the condition quickly, such as when the patient was suffering from microbial keratitis or endophthalmitis. The best approach to red eye was to exclude the worst scenario first. When symptoms indicated either an infection or an inflammation, he suggested treating for infection first, likening it to closing a hole on a leaking boat, rather than baling water. In treating red eye, it was important to have a plan B, C and D as well, he said. "Failure of treatment can be instructive, but the real failure would be not to bring them back for review." Importantly, he stressed, that if dealing with a transplant patient, red eye must be treated as an emergency as it could be a sign of transplant rejection. Over-referring patients was an excellent safety net and a good way to learn over time from the post-referral feedback, he added.
Vitreoretinal surgery and medical retina diseases specialist, Associate Professor Adrian Fung, gave an informative talk about differential diagnosis of posterior-segment ocular tumours. Using the analogy of onions, he grouped tumours into three types: brown onions (pigmented lesions), red onions (vascular lesions) and white onions (white lesions). He recommended an easy mnemonic to sum up the characteristics which distinguish naevi and melanoma: "To Find a Small Ocular Melanoma" (Thickness, Fluid, Symptoms, Orange pigment, Margin). He also reminded the audience to step back and look at patient as a whole and consider other syndromes which might be expressed as ocular symptoms.
Melbourne ophthalmologist Dr Xavier Fagan explained how it was sometimes possible to "see the answer in the eye" with regard to a patient's overall health, sometimes before they were even aware they were unwell. Good eye imaging could detect diabetic retinopathy (DR), vascular disorders and inflammatory and infectious ocular conditions. DR patients who didn't know they were losing their vision could be motivated to change their lifestyles when shown images of the damage already visible in the eye, he added. All optometrists could also expect to see malignant hypertension, which could be mistaken for diabetic neuropathy, said Dr Fagan, as well as choroidal metastasis, when a patient doesn't know their cancer's back, or detect if a patient was immunocompromised. Ophthalmic findings could also be useful in detecting vascular, infectious or inflammatory disease, monitoring response to treatment, showing patients the consequences of modifiable risk factors and interacting with other health professionals.
Professor David Mackey, head of ophthalmology at the Lions Eye Institute, discussed genetics, differential diagnoses and potential optic nerve disease treatments. In a fascinating talk focusing on hereditary optic nerve disease, Dr Mackey looked at subtypes including Leber hereditary optic neuropathy (LHON), where young patients can go legally blind almost overnight, and how to differentiate LHON from autosomal dominant optic atrophy (ADOA).
Professor Glen Gole from Brisbane delivered the last session of the conference focused on kids. Any child with an early morning, crescendoing headache should be regarded as having a brain tumour until proven otherwise, he said. Children with any sight threatening conditions, such as congenital cataracts, bacterial keratitis, infantile haemangiomas or esotropia, should be referred, especially when the condition was not responding as it should, as should any child with a white pupil, he said.
*For more on Specsavers' mission to tackle the region's eye health, visit: www.eyeonoptics.co.nz/articles/archive/transforming-eye-health/
State of the nation report
Access to data from 6.5 million customers will lead increasingly to evidence-based optometry interventions, especially in the treatment of glaucoma, age-related macular degeneration, diabetes and refractive error, said Specsavers' optometry director for Australia and New Zealand, Peter Larsen at the company's 2018 clinical conference SCC7. Launching Specsavers' inaugural State of the Nation Eye Health Report based on the data, Larsen said it was no longer acceptable for people to be going blind from diseases which could be picked up and managed before they led to sight loss.
Specsavers had only just begun to "dig into the data", however, he said - comparing the group's data to other large population-based studies, such as the Blue Mountain study (3,600 people), the Rotterdam study (15,000 people) and the Framingham heart study (5,500 people) - but already it showed overwhelmingly that using OCT on every patient significantly improved detection and diagnosis rates, not just of glaucoma, but also of diabetic eye disease and medical retinal disease (up 69% compared to before the OCT roll-out). Previously optometrists hadn't really known what percentage of patients they should be doing visual fields on to detect macular degeneration, but the data clearly showed it needed to be about 10% to be effective. The data also showed optometrists had been missing people with diabetic disease as many were not dilating enough, he added.
Findings from the Specsavers' data would be circulated to all stakeholders, said Larsen, stressing that data analysis had really only just begun.
Botany Specsavers honoured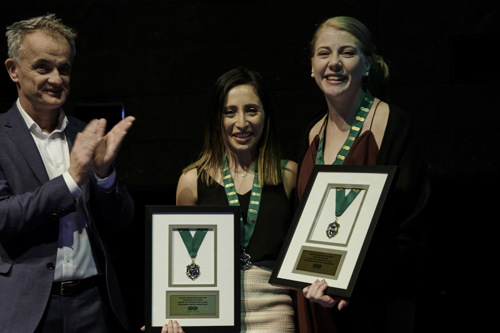 A grand night was had by all at the SCC7 first-ever sit down welcome dinner at the National Gallery of Victoria. Hosted by optometrist and Specsavers board member Chris Papatheodorou, the celebratory atmosphere was kicked off with news that this year's attendees had pledged more than A$31,700 for Lions Outback Vision.
This high continued with the presentation of the first ever Doug Perkins Medals for Clinical Excellence. The new awards, named in honour of Specsavers' optometrist founder, were awarded to a New Zealand and an Australian store which were deemed the best from a clinical outcomes perspective. New Zealand had four finalists in this year's awards: Botany, Lower Hutt, Takapuna and Wanganui, with Botany taking home the title on the night, while Victor Harbor won for Australia from six finalists.