SILMO 2018: A kaleidoscope of colour, shapes and style
Silmo Paris certainly lived up to its new slogan, "so much more than a fair". With 965 exhibitors, including 230 new ones plus the return of De Rigo and Menicon - the former so busy it was difficult to get an appointment – from 39 countries, showcasing 1,548 brands, Silmo can rightly call itself a world optical fair.
At first glance, the sheer size of Silmo compared with anything from our neck of the woods is somewhat overwhelming. But the layout, with stands spread out across two massive exhibition halls (one which confusingly dog-legs behind the other) is so well sign-posted it's easy to find whichever company you may be looking for after a few wanderings. The problem comes in not being led astray by the sheer choice of frame designs on offer.
Silmo: setting the trends
Initially, my attention at this year's fair was grabbed by the amount of colour, both in metal and acetate; the brighter the better, with wonderful material combinations and staggering patterns, many delivered with incredible detailing. A closer look revealed the emergence of some clear trends: wood and horn have diminished, though there were still many examples of stylish wood finishes and wood-looks, while gold is definitely back in vogue, especially rose gold, and translucents, with many ranges sporting clear, pale pink and other pastel translucent acetate frame offerings. Shapes abounded with a plethora of round and an increasing number of geometric shapes from square to octagons.
Eyes Right Optical's Mark Wymond said he was struck by the number of square designs abounding. While Siu-Yin Shing, our Style Eyes writer and British eyewear blogger who admitted she's on a mission to break British eyewear conservatism, said the abundance of shapes also caught her eye, especially the hexagons and upside-down triangles. Round may have reached its peak, however, she said, while pastel shades are definitely coming back.
Maarten Weidema, publisher of international online magazine The Eyewear Forum, said this year's Silmo was particularly diverse, with great examples from many of the independents of some great retro-inspired designs, though the futuristic trend towards negative space was still going strong.
Nearly all the brands we know and love had something new on offer at Silmo. Here's just a selection of a few that caught my eye.
Jono Hennessy / Carter Bond
Carter Bond's new "Wanderlust" campaign is all about the wonder of travel and nature, explained business director Louise Sceats. Made from hard-density cellulose acetate (HDCA) the new Carter Bond range incorporates new wood finishes which are a lot softer. "We call it 'cashmere-finished wood'. It looks like wood and feels like wood, but is pure acetate so you can heat it and adjust it… Our samples were only delivered yesterday, so this is hot-off-the-press."
As for the new Jono Hennessy range, the acetate colour and fabric pattern combinations, including a new metallic gold colour, were quite breathtaking.
A lot of people asked us to go back to our roots, so this range is all about wearable, comfortable shapes but in amazing colours, said Sceats. "We wanted every tray of Jono that you opened to be like a tray of liquorice allsorts. It's just colour and pattern, so it's just really lush and fun."
C-Zone
Taking pride of place on C-Zone's stand was it newly unveiled collection of XL specs for men. Called Trofy XL, it's the world's first XL collection for men, said director and co-founder Rob Maas. "We have always been very successful with bigger men's styles, so we thought it was about time to create a full collection because men need choice." The new Trofy collection offers 11 new stainless steel-based models, sporting C-Zone's clever hinge technology and a variety of other materials, in sizes from 57 to 63 - ideal for Australasia's overly large rugby playing community.
With Trofy taking over the XL ranges, C-Zone can focus more on trend as personified by C-Zone's mantra - cool, colour and comfort, said Maas.
Vanni
Vanni's stand veritably popped with colour. The warmth of the company's bright yellow flower images extended to the welcome visitors received, with founder Giovanni Vitaloni and designer Irene Chinaglia making you feel as if you've known them all your life.
Launched in Turin in 1990, Vanni is famous for its exclusively-designed, cleverly patterned acetate material, made in Italy by the now infamous innovative acetate manufacturer Mazzucchelli.
New for Vanni at Silmo was its new Macro collection, which instead of geometry, is inspired by more organic shapes. It's like looking at an organic structure through a microscope, explained Vitaloni, with the stunning designs allowing beautiful coloured light in through the sides.
There are some shapes and colours that every country in the world likes, said Chinaglia, but others have different tastes and colours. Australia and New Zealand are similar to Europe, which is quite brave compared with other countries, she said, which is probably why Vanni remains a firm favourite in the region.
Blackfin
So new it was only available in one sun frame, Blackfin's Luminar lens technology is still shrouded in secrecy. It's made by a "very tiny" independent Italian lens manufacturer, said an excited Simone Favero, Blackfin's new senior marketing manager. "I can't say more. Like Blackfin (the lens company is) a small company, very dedicated to their product. It is really a brand-new way to see. The lightest lenses in the market with the optical quality of the heaviest." The new lens technology will be combined with Blackfin's latest handmade titanium sunglass range and released next year.
In optical, the company's new Blackfin One range sports a new clean design and marks a return to the company's trademark, handmade titanium colour combinations.
Fleye
Danish company Fleye's stand was abuzz with activity. Visitors were indulgently welcomed to the stand with a delicious flødeboller, a Danish confectionery marvel.
The imagery on the stand was beautiful, featuring Danish flowers, trees parts and shrubs captured in ice to mark the launch of the company's "Flowers of Denmark" year. Inspired by Flora Danica, a well-known botanical collection from the 18th century, the year's theme leads to two collections, a Fall and a Spring collection, the latter to be released next year. The Fall collection on display at Silmo featured 11 new styles in "havana tones", warm autumnal colour combinations, in both optical and sun versions, in metals and acetates. The range included some stunning, light titanium-acetate combinations with removable nose pad options and layered carbon with wood-finishing, completely hypoallergenic in true Fleye style.
Bellinger / Entourage of 7
Bellinger was founded in 2003 by designers Malene and Claus Bellinger Diederichsen. It claims to be the first company to have produced frames from cuttings in laminated acetate. The company's design mission: to make a statement that leaves a lasting impression.
The Bellinger collection has always been about colour and the love of acetate, explained Jan Wonsyld, European sales manager. Featuring at Silmo this year, was the company's eight new "less" models. "It's called 'less' because its less than we normally do. The frames are very thin, made from highly compressed acetate with a sleek and lean titanium temple. It is extremely light."
Sister company Entourage of 7 is based in, and inspired by, Los Angeles chic streetwear. New to Silmo, were 10 Rx sun and four optical frames, all made from hypo-allergenic titanium. Exceptionally stylish and high quality, E7 frames (as they are known in the company) are all made in Japan, with beautiful hinge detailing.
William Morris
William Morris' British-themed stand was awash with gin and tonics and champagne celebrating the launch of the company's new autumn and "Made in Japan" Black label collections.
The mainline London collection brings a host of new metal styles to the fore, inspired by iconic British heritage and '80s style. Lightweight and delicate, in autumnal hues, the new metal models offer a touch of elegance to any wardrobe combination.
Area 98 – Coco Song, La Matta
Visiting Area 98's stand is always a pleasure for the senses. The sheer opulence of Coco Song's frames, with their stunning laminated silk colour combinations; temple's studded with semi-precious stones and feathers, all inspired by the ancient dynasties of the Orient, are quite breathtaking.
This year at Silmo, Area 98 launched a special limited edition of its Coco Song 'Love Please' range - 200 frames featuring a special multi-coloured silk designed and produced specifically for Love Please. So each frame is related but different from each other, depending on the cut of the silk, said Area 98's Stefania Cane.
Also on show was Coco Song's new CCS collection, a new brand unveiled at Mido 2017 for the younger wearer. "It's like the daughter of Coco Song," explains Cane. Each model comes in six different silk screen printed colour combinations; eye catching but without the full on glamour of its parent brand.
Colour also abounded within Area 98's other key ranges, La Matta and Kaos, each unveiling new colourful ranges at Silmo. La Matta's new iridescent palette and bold animal-inspired designs were particularly stunning.
Westgroupe – FYSH, Kliik and Evatik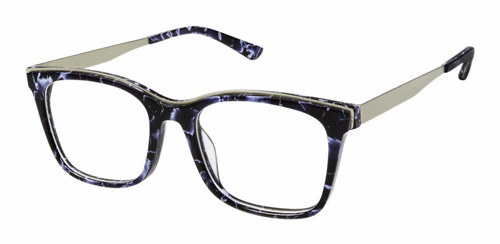 Kliik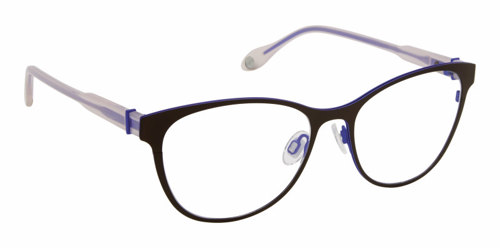 Fysh
A family-owned and operated company with more than 50 years of industry insight under its belt, Westgroupe's stand was busy though everyone was happy to bide their time to see the new FYSH, Evatik, Kliik Denmark and Superflex designs.
FYSH's new catwalk fashion-inspired designs, were particularly eye catching. FYSH UK is designed for "strong, ambitious, game-changing women who embrace individual style," featuring bold colours, intricate patterns, unique constructions and shapes. Metal accents, such as double metal bridges, inlays and browline details are also marks of the new FYSH range, said marketing director Shaleen Ratansi.
In contrast to its exclusive, minimalistic, narrow-fit brand Kliik, for both men and women, the company's men-only brand Evatik's new range was characterised by masculine colours and custom design elements, with far more XL sizes for the larger man.
Ogi, Red Rose and Seraphin
Red Rose's new range was all about chic, sleek, minimalism, said Ogi's creative team manager Katy Dajnowski. Colourful metal frames, both matt and shiny, combined with high density acetate, making it stronger but still lightweight, with stainless temples in new crystal, blush and neutral tones. "That's in high demand across all of our lines right now. As well as really rich colours, and combination textures and materials."
The company's namesake line Ogi has also been expanded to include a number of styles for men with smaller faces, in response to distributor demand, she added, while Ogi's classic, more vintage-inspired luxury brand Seraphin is all about metals, with high demand for its red gold options. A nifty design feature was Seraphin's cat eye frame shapes which turned down to follow the brow line, offering a far more flattering look for a wider range of women.
"Our signature tagline is 'expression without words' because your glasses are the first thing people see, so it's a way to express yourself without even saying a word," said Dajnowski.
Silmo will be back from 27 to 30 September 2019