Chalkeyes presents: Taking this bike all the way to Invercargill, son
The first time I heard about a monster bike ride from Cape Reinga to Bluff, I was in the doctor's surgery. My GP was wiry, a keen bike rider, a role model. He and half a dozen friends were about to set off on a mighty fundraising adventure, riding the length of the country in honour of a mate who had been taken by heart disease. One of them would be riding a 'fixie' – no gears for changing up or down. It sounded like a staunch get-out strategy.
I was full of admiration and I told him so, but I was enthusing more in the spirit of 'I love hard work, I could watch it all day' than ever wanting to do it myself. I even maybe took some comfort from knowing that in all likelihood I never would. It wasn't the slog that deterred me, it was the idea of taking your life in your hands on the nation's roads and the hurtling vehicles that would make no allowance for some guy on a bike.
It would not be the last I heard of this annual marathon. Other friends and colleagues would say, "Hey, I'm doing a bike ride from…" and I would say "Let me guess: Cape Reinga to Bluff." Right every time. I was always generous in my praise because I really did admire the effort and I would wish them well. But I would also still be thinking, 'glad it's not me.'
I didn't ever think to ask, "what route will you be following?" I just assumed that, apart from certain points where cycle trails were being developed, you would be at the mercy of state highway menace! I should have asked. I would have learned that a lot of work has gone into devising a route that keeps you out of harm's way.
It was only last year, when some friends told me they were planning to do it (three women who have long had their gold cards – The Rhythm Belles, they would be calling themselves – taking on the challenge on e-bikes) that I finally began to look a bit more closely. And the more I learned, the more excited I got.
This annual event I had been hearing about turns out to be a brevet: a ride following a set course, via 30 photo checkpoints, which you must complete in 10 to 30 days – no more and no less. It follows the route known as The Tour Aotearoa, which uses the best cycling infrastructure that exists in this land to get you from top to bottom.
As you trace the map you realise it is truly inspired; a really safe, really sensible way to get you all the way on a bike.
The Rhythm Belles went in a little apprehensively, but they were soon having a mighty time. They loved the camaraderie of a thousand people encouraging one another, swapping notes, helping one another along. They loved the generosity of spirit away from the big cities, the less frenetic pace; it was nice to be out of reach of 24/7 news, just absorbed in rolling towards your next destination; drivers on the back country roads giving a friendly wave as they went by.
My friend Terry joined them to ride in support and he shared impressions from the road. He said he had never seen the Central Plateau volcanoes so clearly before, loved the foggy valley mystery of the Whanganui River; every day another adventure.
I was captivated, I was hooked, I was sold. Come with me now as we talk over the coffee table and I pick up my current travel planner Tour Aotearoa Official Guides by biking legends the Kennet brothers. This pocket-sized book of excitement maps out the whole thing for you, takes you along the Tour Aotearoa road by road, turn by turn, swing bridge by swing bridge (well, just a couple of swing bridges). Around the middle of the North Island there's a bit of tiger country involved. But there are milder alternatives, if you prefer, involving a jet boat or the quietish main road.
You can make the trip comfortably in about a month – the Rhythm Belles did. I am for sure going to do it too! How could I have denied myself this much fun for this long? If there's ever an important life lesson to be shared, you can be sure Bob Dylan has thought of it and put it in a song. He's quite right:
What looks large from a distance, Close up ain't never that big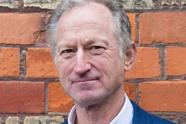 David Slack is an Auckland-based author, radio and TV commentator and speechwriter, and a regular columnist for NZ Optics.