Glaucoma suspects using a self-administered iPad test for visual field defects took a third of the time of traditional in-clinic testing and achieved greater sensitivity, reported Australian researchers.
Led by Dr George Kong, from the Glaucoma Investigation Research Unit (GIRU) at Melbourne's Royal Victorian Eye and Ear Hospital, the research team targeted patients in rural areas to compare the iPad-based Melbourne rapid fields screening module (MRF-S) against either the Zeiss Humphrey Field Analyzer (HFA) or the Haag-Streit Octopus at the same visit. Testing time with MRF-S averaged 1.88 minutes vs nearly six minutes for reference tests, while, using a risk criterion of 55%, MRF-S identified moderate field defects with a sensitivity and specificity of 88.4 and 81.0%, respectively.
An earlier study by the team demonstrated 69% of 101 participants were able to comply with six weekly assessments using the tablet at home, with a similar level of false positives to the HFA. After using a similar system to monitor high-risk age-related macular degeneration patients, researchers noted that compliance is the primary obstacle with this method and that a home-testing baseline needs to be established. They concluded, however, that home monitoring has the capacity to return a greater number of test results compared with six-monthly clinical reviews and, with modelling, showed that frequent home visual field testing would enable detection of glaucoma progression two years earlier than clinic tests.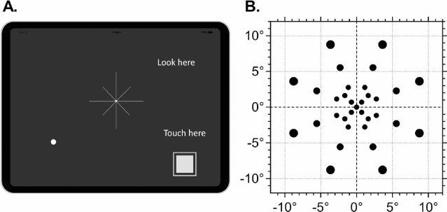 A. Tablet-based Melbourne Rapid Fieldsmacular test for AMD. The participant fixates centrally and taps the red touch zone when they see a spot of variable brightness. B. The test pattern has 33 locations within the central 9.5°
"The health service is constantly struggling to keep up with monitoring patients who may or may not need intervention when they come into the clinic, so using new technology like this would help identify those who most need intervention. We would be able to spend more clinical resources on patients who are progressing, and we can possibly conserve some resources on those who appear to be stable," said Dr Kong.
The research is supported by the Centre for Eye Research Australia's (CERA) Innovation Fund, which helps researchers deliver proof-of-concept data or develop projects in their early stages to the point where they can attract further commercial investment. "We are excited to support Dr Kong's research, which has great potential to address telehealth needs which have become increasingly important in light of the Covid-19 pandemic,'' said Tena Cheng, CERA's head of commercialisation and legal.
Dr Kong's paper, 'Home monitoring of visual field for glaucoma patients using tablet device: 12-month outcomes' won the Gerard Crock Trophy for best paper at RANZCO's 52nd Annual Scientific Congress earlier this year.