Nurses: meeting future needs
Following the cancellation of last year's annual ophthalmic nurses meeting, held in conjunction with the RANZCO NZ Branch conference each year, we waited with bated breath to hear if RANZCO 2021 would go ahead. Fortunately, the Christchurch organising committee's hard work and effort did not go to waste as the event went ahead 10 months later at the newly refurbished and earthquake-strengthened Christchurch Town Hall.
For many Christchurch attendees being back in the town hall brought back fond memories. The doctors' part of the conference was held in the James Hay Theatre and the nurses' in the significantly restored Avon room, which boasted views of the iconic Ferrier Fountain. The conference theme of Balance could not have come at a better time and the organising committee certainly delivered, accommodating both virtual attendees and international speakers and the largest in-person attendance at a RANZCO NZ Branch meeting to date.
While there was the odd minor technical hiccup with some of the virtual presentations, which was to be expected, these were quickly resolved by the discreet on-hand technical experts at the back of the meeting rooms. Overall, the addition of virtual presentations was extremely successful and added to the positive atmosphere. There were even opportunities for a little banter between session chairs and international guests, many of whom were sharing their knowledge at strange times of day, given international time differences, which also helped keep the sessions fun and engaging.
Balance was reflected in the presentations too, with a wide range of topics delivered by ophthalmic nurses, doctors, optometrists and several non-ophthalmic speakers, who covered topics ranging from climate change and sustainability to surgical stress associated with being part of an ophthalmic surgery team in today's world.
Balancing our world
The international keynote speaker for this year's nurses meeting was Dr Roxanne Crosby-Nwaobi, a postdoctoral ophthalmic nurse researcher and head of research nursing at the NIHR Clinical Research Facility at Moorfields Eye Hospital in London. We were extremely fortunate to have Roxanne present four talks over the course two days, her topics included, Balance as an economic consideration in treatment/research; Research should be business as usual, or should it? and Balance in screening options for diabetic eye disease – patient or clinician choice? While Roxanne acknowledged that research is enormously expensive – with the UK spending more than ₤12.6 billion (NZ$24.4bn) per annum on research alone – and stretches clinical services and staff time, it is extremely important and is about everyone's future. It was Roxanne's talk on building a digitally ready workforce, however, that was most interesting. Within the next 20 to 30 years, digital and genomic technology will become more prevalent in healthcare, coupled with a surge in telemedicine and smartphone apps, allowing remote home monitoring and interventional and rehabilitative robotics, so it's essential the ophthalmic workforce is digitally ready. While the Covid-19 pandemic has accelerated technology trends, it has also helped reduce the spread of viruses, so these technologies will have a long-lasting effect in healthcare. There will be a major move away from physical and manual work, with 90% of jobs in healthcare requiring digital skills within the next 20 years, so we need to ensure our staff and patients are ready for these new technologies. Roxanne suggested we should start building this environment now, creating a cultural shift that allows flexible career pathways, education and training to widen digital participation.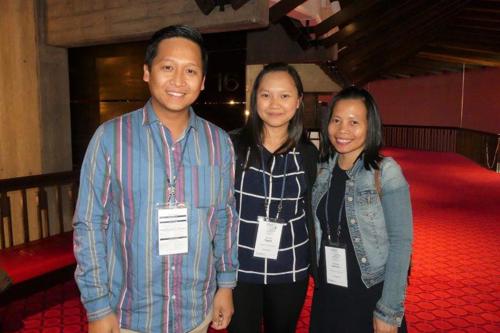 Ju-Wayne Adam Mugas, Jimari Ilagan and Chona Dahiroc
Specialist anaesthetist and acting chief medical officer at Canterbury District Health Board Dr Richard French gave an in-depth talk about his research into the effects of incivility at work and whether it matters if you are rude at work. His presentation could be applied to any workplace but is a known problem in healthcare. It was interesting to see how being rude can directly affect people's productivity and patient care, including how rudeness can change a person's willingness to help others.
Extending our expertise
It was evident from some of the other speakers that there were a number of nurses engaged in extended practice, such as running nurse-led clinics, performing intravitreal injections and crosslinking. Northland District Health Board ophthalmic nurse practitioner Fiona Bamforth shared her experience of performing YAG laser which she has been doing for the past 18 months (see story p6). Fiona demonstrated that nurses are able to perform this procedure and its direct benefits for her patients. It's really positive and exciting for our speciality to hear about these experiences and to recognise the wonderful work these nurses are doing. Hopefully it inspired many of our other ophthalmic nurse colleagues to consider extending their roles as well, especially as we need to find ways to efficiently and effectively meet the increasing healthcare demands of our growing patient base. As Bev Corin from Wellington highlighted, nurses are capable of upskilling and don't need degrees to expand their practice. Her take-home was to start small and remember you don't have to be perfect to begin with.
Another talk that stood out was the one from Rotorua-based nurse Aylssa Hardy, who pointed out that there is a lot of uncertainty in ophthalmic nursing, which she attributes to a lack of formal training, especially for the next generation of ophthalmic nurses in New Zealand. She offered a number of tips on how more experienced nurses can help the next generation become more effective in their roles, including noting that one of the most valuable rewards you can give a new nurse is affirmation, appreciation and acknowledgement for their efforts. Aylssa also outlined some ways her practice helps train and educate staff, including in-house training, encouraging conference attendance and joint teaching sessions. Staff are also empowered by being encouraged to take on extra responsibilities such as health and safety, education and quality. Aylssa's talk was thought-provoking and deserving of the best nurses' presentation award.
Garry Cobb, an anaesthetic technician from Christchurch Eye Surgery, gave two interesting presentations: one on local anaesthetic toxicity and the other on electrosurgical safety in the operating theatre. It was a timely reminder to theatre staff about the importance of keeping oxygen therapy away from anything that may ignite it, such as diathermy.
A hospital for the future
Local Christchurch nurses also did an awesome job of showcasing the new regional public hospital, Waipapa (formerly Christchurch Hospital Hagley). Ophthalmic theatre clinical nurse specialist Maggie Glasgow shared some the challenges of migrating to Waipapa, including the need to buy new machinery and having to make the service work more efficiently. She discussed the importance of teamwork when undertaking such a large transition and how each staff member had the opportunity to offer proposals to make the new theatres run as well as possible.
Nerelle Fontaine, a paediatric nurse working in the Day Stay Unit, gave a great talk about how she had assisted in setting up the new Children's Surgical Admission unit at Waipapa, noting that while the old facilities were adequate, they were not an ideal paediatric environment as all children admitted required a general anaesthetic. Consequently, children were two to three times more likely to experience anaesthetic emergence delirium, which causes real distress for both the child and their parents. Having children recover alongside adults also resulted in negative consequences for both the children and adults.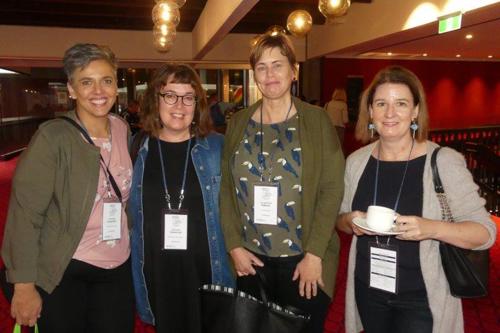 Nerelle Fountaine, Rachael Hammond, Jacqueline Roberts and Jennie Anderson
Although there was a two-year delay with the opening of the new hospital, it was great to see some photos and learn about the new purpose-designed paediatric facility which has one ophthalmic paediatric list a week. It's wonderful to know Christchurch finally has a hospital that can meet the needs of our younger community.
In conclusion
Overall, the conference was a great experience. It was wonderful to reconnect with colleagues and network without restrictions imposed by Covid-19 again. There were also plenty of learning opportunities and clinical pearls. The presentations were of a very high calibre, especially from the medical students and new registrars, which was great to see. There were also many little added touches that made this conference exceptional, including the phone app that allowed people to ask questions without having to go up to a microphone; and we have the added bonus of being able to visit the virtual hub to re-watch any of our favourite talks.
A special thanks should be given to Dr Logan Robinson, Dr Jo-Anne Pon, Dr Elizabeth Conner, Marie Taylor and Jody Allen for all their hard work in organising such a great conference, especially given the challenges over the past 10 months.
Natasha Fanene and Anna Stephenson are RNs at Christchurch Eye Surgery. Natasha has a background in ophthalmic theatre nursing, is currently quality services manager and will soon be clinical services manager, while Anna is operating theatre team leader.