Like many things, the O-Show (originally scheduled for May 2020) followed a circuitous path thanks to the pandemic, eventually taking place from 28-29 May 2022 in Sydney's Hordern Pavilion. But, boy, was it worth the wait!
The Optical Distributors & Manufacturers Association's (ODMA) boutique trade fair's 70 exhibitors represented the industry's latest lenses, frames, sunglasses and equipment. There were also service displays, demos, tips, window-dressing displays, plus networking and educational opportunities. Entry was free, as were the Spotlight Stage presentations covering everything from the latest in eyewear trends, building client rapport, increasing sales with less investment and frame styling. There was even a session on the latter using colour analysis. This trending method in the cosmetic and fashion industries uses your client's complexion, eye and hair colour to determine palettes that harmonise with their features – next-level personalisation!

Scheduled masterclasses were also offered at a fee. These included workshops on accurate measurements for optical dispensers, starting your own independent practice and even ocular emergencies and triaging.
Networking: greeting and eating
It was so good to finally be able to interact with exhibitors, share some good food and network. The social media wall, window dressing displays, optical illusion photo-ops and organic food trucks were real crowd pleasers. For many vendors, the O-Show was their first trade show. April Petrusma, CEO of Optical Dispensers Australia, said she was excited to meet existing and prospective members and share their passion in person, while Cathryn Thomas from Eyecare Plus Optometrists said the show was a great opportunity to meet optometrists and DOs and build our community and skills.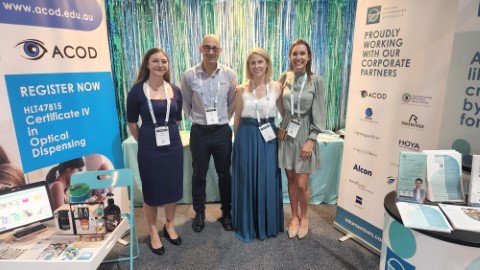 ACOD's Nicole Grasso, Chady Kalach, Lou Thomas and April Petrusma

Frames: unique, custom or indestructible
While I enjoyed seeing glamorous frames collections by brands such as Face à Face, Morel, Swarovski and Tom Ford, it was even more exciting to see such a wide collection of innovative boutique frames, such as Australia's Jukurrpa Designs. Founder Murray O'Keefe works closely with Warlukurlangu Aboriginal artists who are paid a licence fee in exchange for their traditional and contemporary artwork. This artwork is printed onto a lens cloth and transformed into a print on a Mazzucchelli spectacle frame designed by O'Keefe. With each purchase, the client gets a card with the story of the artist and their artwork and 10% of the profits go back to the artist and the arts centre/community. Plus the polarised sunglasses lenses and frames are made from biodegradable materials.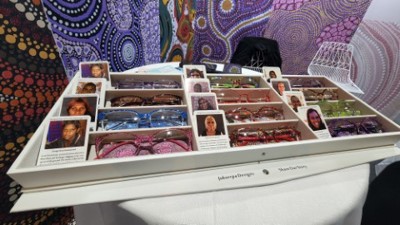 Jukurrpa Designs

With an entirely different take on printing is VenEyes' custom eyewear. After an app has scanned your face and profile, you can virtually try on any of the 30 frame styles adjusted to fit your pupillary distance and face size. Once you've customised the colours, the nylon and PA12 frame is 3D-printed in Rouse Hill, Sydney. There is even a function where you can upload your images onto your social media feeds so that your friends can vote on which colour/frame design suits you best.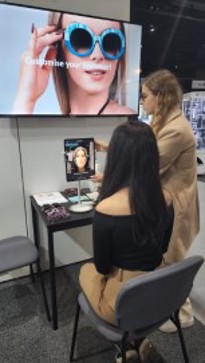 VenEyes' custom eyewear

I was also impressed with Ovvo Optics' frames, made with screwless hinges and constructed from a mix of surgical steel and titanium. This hybrid material was developed by Russian metallurgical engineers for military and spacecraft purposes, resulting in lightweight and flexible frames that can hold up to 2.3kg without losing their form!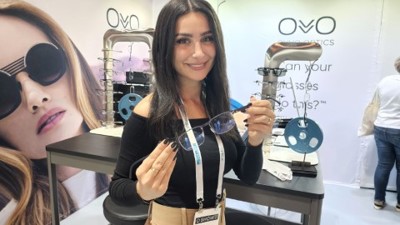 Layal puts Ovvo Optics' 'indestructible' frames to the test

Technology: portable and practical
It was a lot of fun testing out the cool new toys from the equipment suppliers. Notably, Opticare showcased mobile fundus cameras that have application in outreach and mobile testing. Several suppliers have come out with combined fundus camera and OCT, now with OCT-angiography features. Opticare even offers add-on topography and biometry features and Device Technologies' version of this combined technology had functionality that extended to visualising and providing quantitative measurements of the choroid.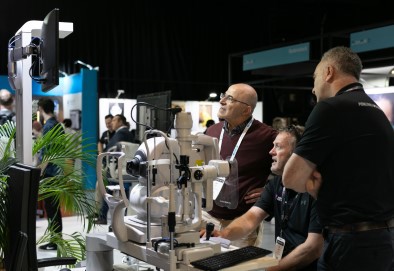 Device Technologies
Although Covid is still affecting some people's desire to travel, 35% of the event's 1,000 unique visitors were non-local. The impressive turnout from New Zealand, Canada, France, Fiji, Hong Kong, Japan and Sri Lanka came as no surprise, since the event had such a great atmosphere. As Amanda Trotman, acting CEO of ODMA put it, "It was professional yet relaxed, business-focused yet fun. I am just so happy right now. So many exhibitors have thanked ODMA for putting on the event and providing a platform for them to get face-to-face with such a wide audience in a condensed timeframe. This is what it is all about for us, providing a productive platform for doing business that makes the most of everyone's time investment."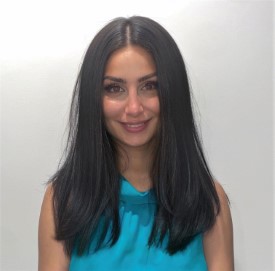 Australia-based optometrist Layal Naji is a lecturer of optometry at the University of Canberra and co-founder of the outreach optometry clinic at the Asylum Seekers Centre in Newtown, Sydney.