RANZCO NZ 2022: A breath of fresh air
After two years of limited or cancelled meetings due to Covid-19, it was a breath of fresh air to arrive at Blenheim's Marlborough Events Centre and ASB Theatre for the RANZCO NZ Branch meeting. Amid the lingering pandemic and ever-changing gathering restrictions, RANZCO's conference committee and organisers successfully navigated the ophthalmic specialists' and nurses' programmes. Around 200 in-person delegates were buzzing with excitement to finally meet and interact in person.
Day one commenced with 30 trainees from around the country attending the registrars' teaching day, led by organising committee chair Dr Antony Suter. Later, the wider delegate community were warmly welcomed with an evening function, complete with some of the region's famous fine wines. There followed two full days of carefully curated presentations – kudos to Professor Charles McGhee and the scientific programme committee – alongside a delightful dinner hosted at the world-class Omaka Aviation Heritage Centre. It was a truly memorable conference that highlighted history, current events and the future planning of our specialty.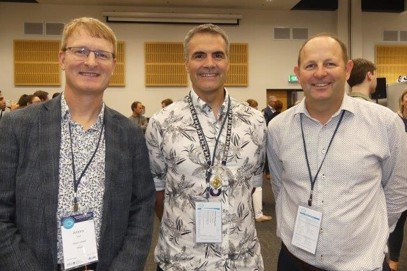 Committee chair Dr Antony Suter with Drs Peter Hadden and Andrew Riley
I heard nothing but positive comments about the whole hybrid event and the seamless way it ran without significant AV issues, despite it involving almost 100 live, recorded and online speakers. I believe we also managed to set a number of new standards for RANZCO NZ, including addressing gender imbalance with all invited keynote speakers being female and nearly 60% of presentations in the specialist programme delivered by women. Plus, in the specialist programme, we attracted more than 75 abstracts, the majority being accepted as oral presentations, and for the first time, juniors were included as one of the three moderators on each session, promoting the inclusive environment within the specialty. I also felt that featuring the Parr and Potter medal lectures more prominently in the programme highlighted the massive contributions to New Zealand ophthalmology by pioneers such as this year's lecturers - Professor Helen Danesh-Meyer and Associate Professor Bruce Hadden.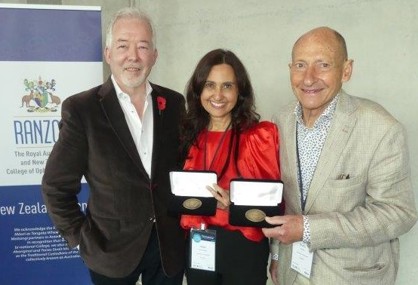 Profs Charles McGhee and Helen Danesh-Meyer with A/Prof Bruce Hadden
Two years into a pandemic – how did we do?
The scientific programme started with a mihi by Dr Peter Meihana, senior lecturer in Māori history at Massey University, who highlighted the important history and pou whenua of the province. We were immediately launched into the first plenary session on navigating the Covid-19 era as an ophthalmologist, starting with keynote speaker Prof Danesh-Meyer, who astutely observed that all the virus particles causing the current global pandemic would fit into a Coca-Cola can! She discussed the various effects the virus and its vaccines have on the activation or reactivation of a variety of inflammatory eye conditions.
What followed were useful responses to Covid-19 restrictions on patient access to care. Auckland-based medical retinal specialist Dr Sophie Hill shared how the medical retinal service in Auckland streamlined patient imaging and consultant reviews in a 'store and forward-on' manner, allowing more patients to be reviewed virtually each session. In Nelson, Dr Suter embraced video consultations alongside other platforms to enable telemedicine to increase non-contact eyecare provisions in the future. Waikato-based corneal specialist Dr James McKelvie – leading a very dynamic team of up-and-coming junior clinicians including Drs Sunny Li, Vidit Singh, Ruhella Hossain, Henry Wallace and Himanshu Wadhwa – demonstrated how they improved patient access to Hamilton's corneal crosslinking (CXL) service, incorporated real-time data analytics into practice and accessed $500K from the government's Covid-19 recovery fund to improve cataract and diabetic pathways locally, all while pursuing a more carbon-neutral cataract service at Hamilton Eye Clinic.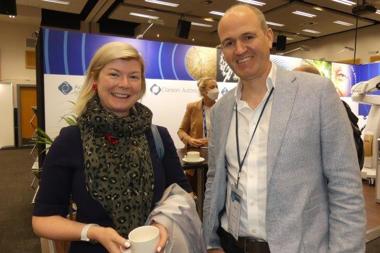 Drs Sophie Hill and Oliver Comyn
Gender-equal, ethnically representative and a well-trained workforce
A major highlight of this conference was the Dorothy Potter Medal Lecture, this year delivered elegantly and passionately by the first female professor of ophthalmology in New Zealand, Prof Danesh-Meyer, on gender equality. She generously shared several defining personal encounters early in her career that moulded her into the clinician and academic she is today. Using results from research conducted internationally and locally, she showed how the fight against implicit gender bias – affecting men and women – is ongoing, while noting that many of her most supportive mentors were male.
Dr Hannah Gill, a RANZCO trainee based in Palmerston North, shared her and Dr Rachael Niederer's research on gender differences in surgical case volumes, pay and in clinic, as well as research project involvement. Their audit showed that female trainees reported lower surgical case volumes. Implicit bias, gender differences in risk-taking, self-assessment and experiences in the theatre environment, as well as institutional factors, were all likely to play a role in this, said Dr Gill.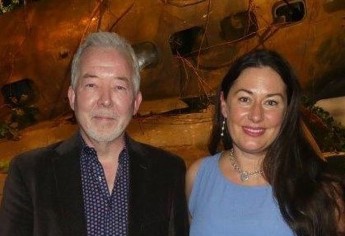 Prof Charles McGhee and Dr Rachael Niederer
The 'If I can see it, I can be it' mentality can undoubtedly influence a medical student in pursuing a particular specialty. Dr Simone Freundlich, a RANZCO trainee in Dunedin, highlighted the lack of Indigenous representation in ophthalmology and consequently the lack of visible mentors to guide a junior doctor towards the field.
Together, these powerful talks emphasised the importance of recognising gender and ethnic equality as the responsibility of all clinicians, irrespective of personal pronouns or ethnic affiliations.
There was much talk around the future of ophthalmology training and the use of virtual reality as a stepping stone to elevate both the junior and seasoned clinicians' skillset. 'Overall Best Paper' presenter Dr Corina Chilibeck, currently training in Hawke's Bay, demonstrated the clear benefit in skillset improvement with use of the EyeSi virtual reality surgery simulator in her study, while Canterbury ophthalmologist and retinal surgeon Dr Genevieve Oliver, with excellent humour, demonstrated how a seasoned clinician could utilise the EyeSi to navigate high-stakes cases before encountering them in theatre. RANZCO NZ director of training Dr Anne-Marie Yardley shared the current specialty selection process and timeline, which was of great interest to the junior clinicians in the crowd. It was also encouraging to see that as of 2017, there has been an even gender split of full-time equivalent trainees.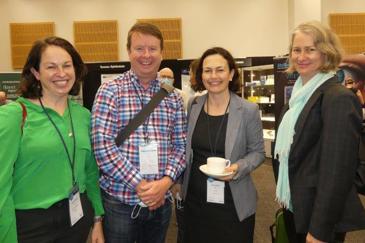 Drs Anne-Marie Yardley, Logan Mitchell, Genevieve Oliver and Sonya Bennett
Priming us for July 2022's merging of the 20 district health boards (DHBs) into Health New Zealand, we heard from Interim Health NZ (iHNZ) representative Rachel Haggerty about the future of the health service following this reorganisation. While it was reassuring to know that a Te Tiriti-dynamic healthcare system would be a goal, it was noted by clinical director Dr Sarah Welch that none of the four equity health priorities for the new system included ophthalmology. Indeed, Health NZ had yet, at the time of the conference, to approach the ophthalmology service for suggestions on how to prioritise eyecare, which was subsequently discussed in detail during the Q&A session. This new horizon, as exciting as it may be, will need to be navigated with care, ensuring that the service provisions are not impacted and will continue to be prioritised.
We know from experience that our service is resilient, patient-focused, and diverse. Despite the uncharted waters of the pandemic, we have been able to form new and better solutions to existing issues, and it is my belief that we will be able to navigate the new health system with the same grit.
Challenging known facts
Over two days, the keynote speakers worked tirelessly to deliver stimulating content and updates in their respective specialties of uveitis, neuro-ophthalmology and medical retina. Uveitis and medical retina specialist Dr Niederer, despite having just recovered from Covid-19 herself, delivered beautifully focused topics with passion. There were many pearls to take away including key signs in diagnosis and management of cystoid macular oedema (CMO), post-surgical uveitis and CMO, as well as superb research data on herpes zoster ophthalmicus. A specific interest for many was the plan for escalation of treatment in refractory uveitis. Prof Danesh-Meyer then took us on an eye-opening tour of glaucoma and neuro-ophthalmology, including how to efficiently and accurately interpret an optical coherence tomography (OCT) retinal nerve fibre layer (RNFL) scan, and how to avoid the pitfalls of falling for the 'red and green disease' when interpreting RNFL OCTs in the context of glaucoma, chiasmal compressions and optic neuritis.
Impressively condensing a vast amount of information into four lectures, Associate Professor Samantha Fraser-Bell, University of Sydney, delivered the latest on medical retina, virtually. Her lectures had a specific focus on age-related macular degeneration (AMD) and retinal vein occlusions, current treatment advances, landmark anti-VEGF studies and the development of macular atrophy in eyes receiving treatment for AMD. We also had the pleasure of hearing from the nurses' conference keynote speaker Nicola Dunlop, nurse consultant at Moorfields Eye Hospital in London, on the successes of nurse-led services that took off under her leadership - including minor surgical procedures, a thyroid eye disease intravenous service and a botulinum toxin clinic.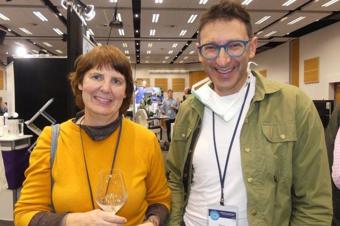 Drs Sarah Welch and Sean Every
Following these crucial updates from our keynote speakers, we learned new strategies for our day-to-day practice from a diverse range of speakers. Dr Amanda Charlton, an anatomical pathologist at the University of Auckland (UoA) and Auckland DHB, in a humorous, avatar-enhanced presentation, highlighted that 0% of suspected lymphoma samples sent for cytology were diagnostic and advised clinicians to send precious vitreous samples for flow cytometry and molecular haematology (looking for the MYD88 gene) instead. Vitreoretinal surgeon from Southern Eye Specialists Dr Sean Every, in an audit of his own practice, concluded that YAG vitreolysis was a useful treatment of large debilitating floaters, although careful patient selection is required pre-surgery. Auckland-based medical retina and uveitis specialist Dr Priya Samalia reminded us of drug-induced ocular inflammation as a differential of uveitis, since drugs – such as bisphosphonates (to treat osteoporosis), brimonidine, etanercept (to treat autoimmune diseases), allopurinol (medication used to lower uric acid levels that are elevated in patients with gout or receiving chemotherapy) and cancer-related therapies – used for other medical conditions could also trigger intraocular inflammation.
In light of the increasing number of diabetic uveitis cases that are seen in clinic recently (with HbA1c>100!), Dr Francois Pepin, an Auckland uveitis fellow, reminded us to include diabetic screening investigations in our work-up. Strikingly, Dr Sarah Oh, UoA MD candidate and Tairāwhiti non-training ophthalmology registrar, demonstrated through her randomised controlled trial that the laissez-faire approach (leaving to heal by secondary intention) to lower-lid reconstruction produced equal outcomes with similar complications to those that had direct closure (for more, see www.eyeonoptics.co.nz/articles/archive/let-nature-take-care-of-it).
In another success story, Taranaki Eye Centre non-training ophthalmology registrar Dr Jane Shi shared how her previous research under the Auckland paediatric ophthalmology team successfully raised the minimum age of retinopathy of prematurity screening to 31 weeks, following their study results that half of the babies screened at 30 weeks required re-screening because of ungradable views.
Battling the boom, from cataracts to CXL
In relation to core ophthalmology demands, Dr Welch highlighted the cataract epidemic in New Zealand, attributed to the rise in diabetes, increasing inequity, the pandemic (resulting in significant loss of theatre time over the last two years) and people living for longer (thanks to advances in healthcare). Solutions volunteered included post-operative follow-ups with optometrists, use of topical vs local anaesthesia and considering bilateral cataract surgery to reduce each patient's number of clinic visits. Use of the New Zealand Cataract Risk Stratification score, presented by lead investigator and UoA head of ophthalmology Prof McGhee, continued to demonstrate promising results in reducing significant surgery complications. On the same topic, Auckland-based corneal and refractive specialist Dr Mo Ziaei shared tips and tricks to avoid a refractive surprise by identifying risk factors such as existing ocular surface disease or prior refractive surgery, while Whangarei Eye Specialist's Dr Brian Kent-Smith demonstrated very impressive outcomes in a prospective, randomised controlled study on the use of Alcon's Vivity intraocular lens in providing both distance and functional near vision.
A plethora of updates came from the University of Auckland and Waikato research teams, with a focus on anterior segment disorders. Research in keratoconus was particularly strong, with UoA PhD candidate and CXL fellow Dr Lize Angelo's study setting the scene by showing a 70% first specialist assessment clinic attendance in Auckland as well as the disparity in clinic attendance rates by deprivation scores and ethnicity. This tied in with UoA senior lecturer Dr Akilesh Gokul's study on methods to address inequities in access to post-CXL care. Auckland-based non-training registrar Dr Sunny Li then discussed the safe and promising outcomes of sequential bilateral CXL in 160 eyes of 80 patients, while Wellington-based non-training registrar Dr Henry Wallace impressed the crowd with the development of an interactive dashboard allowing real-time data analysis in Hamilton's CXL service.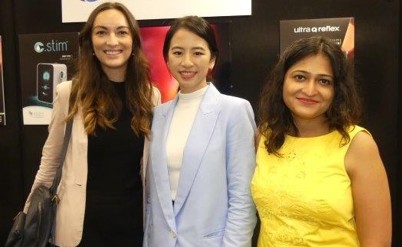 Drs Lize Angelo, Joevy Lim and Stuti Misra
It was fascinating to note the structural changes in corneal nerves in patients with diabetes, as highlighted in a systematic review by Hamilton non-training registrar Dr Himanshu Wadhwa and UoA senior lecturer Dr Stuti Misra's study of corneal and peripheral neuropathy in patients following bariatric surgery. Joining my colleagues, I presented on the first large retrospective study (n=771) on ocular melanoma incidence in New Zealand, highlighting the high incidence of anterior (iris, conjunctiva) as well as posterior uveal melanomas locally. Prof McGhee complemented this work by discussing diagnosis, treatment and minimally invasive surgery for iris melanoma before describing iris reconstruction using HumanOptics' Customflex artificial iris.
As always, it was a hard choice for the RANZCO NZ judges to select the most commendable papers from the younger ophthalmologists, but the awardees were:
Best paper – Dr Corina Chilibeck, 'Incorporating EyeSi virtual reality training into vocational surgical training'; and
Best poster – Dr Chuen-Yen Hong, 'Photorefractive screening for myopia'
It was an absolute honour to be featured among my esteemed colleagues in the four 'highly commended' presentations: Dr Hannah Gill's 'Gender differences in surgical case volume among trainees'; Dr Sarah Oh's 'A randomised clinical trial of laissez faire'; Dr Jane Shi's 'Safety and efficacy of raising the minimum age of ROP screening'; and my 'Incidence and survival of ocular melanoma in New Zealand'.
A nod to our founders and defenders
With all the advances in our specialty and future workforce planning, it's easy to forget how it all started. In the annual John Parr Medal Lecture, delivered by A/Prof Hadden, we were reminded of our rich ophthalmic history and how far we have come in delivering world-class service, excelling both clinically and academically.
The conference delegates were also treated to a flight back in time, courtesy of Tauranga ophthalmologist Dr Mike O'Rourke, while dining in the presence of World War II aviation memorabilia. Dr O'Rourke, a classic plane enthusiast and aerobatic pilot who'd flown himself to the conference, captivated the audience by passionately sharing the stories behind each of the museum's main planes, including the Hawker Hurricane, de Havilland Mosquito and Lockheed Hudson, before ending with a commemoration of those who fought in the war, ahead of Anzac Day and World Pilots' Day.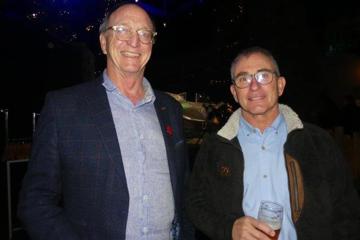 Dr Jim Borthwick with classic-plane enthusiast and 2022 after-dinner speaker Dr Mike O'Rourke
In conclusion
It was a whirlwind of a weekend, to say the least. The meeting was a huge success and I know I speak on behalf of many delegates in saying that this was one of the most memorable and educational meetings I have ever attended.
I hope to catch you at the next conference in Wellington in 2023!
Dr Joevy Lim is an HRC clinical research training fellow and PhD candidate studying the status of ocular melanoma in New Zealand, supervised by Prof Charles McGhee and Drs Stuti Misra and Akilesh Gokul.