Recurrent nAMD after discontinuation of VEGF inhibitors managed in a treat-and-extend regimen
Aslanis et al
Ophthalmology Retina, published online March 2021
Review: This study evaluated 105 patients previously treated with aflibercept for neovascular age-related macular degeneration (nAMD) in a treat-and-extend regimen. Patients were eligible for inclusion if they had a dry macula on three consecutive visits 12 weeks apart, at which stage their disease was considered stable. The patients were followed up at 4, 6, 8, 10 and 12 months after injection. Recurrence was noted in 52.9% after 12 months. Recurrence of nAMD resulted in a drop in best-corrected visual acuity but this recovered on resumption of treatment. Symptomatic vision change was an unreliable indicator of early recurrence, present in only 40.7% of those who had recurrent nAMD. No lesion type was associated with an increased risk of re-activation.
Comment: The burden of treatment and risk of complications such as endophthalmitis with ongoing anti-VEGF treatment makes clinicians and patients keen to avoid unnecessary treatment. However, as this study has demonstrated, nAMD is a chronic disease with a high recurrence rate and the optimal strategy for stopping treatment is unclear. If treatment is stopped, then close follow up is required to minimise the risk of permanent vision loss when recurrence occurs.
C5 inhibitor avacincaptad pegol for geographic atrophy due to AMD
Jaffe et al
Ophthalmology 2021;128:576-586
Review: This is an international, multicentre randomised phase 2/3 trial of avacincaptad pegol, a complement C5 inhibitor, vs sham for the treatment of geographic atrophy. Initially 77 participants were randomised 1:1:1 to 1mg, 2mg or sham injections. Subsequently, a further 209 participants were randomised 1:2:2 to 2mg, 4mg or sham injections. The treatment was delivered as monthly intravitreal injections. There was a prespecified primary efficacy endpoint of a reduction in GA growth rate over 12 months. The 2mg and the 4mg dose achieved this, with a reduction in the growth rate by 27.4% for the 2mg dose and 27.8% for the 4mg dose, compared to sham. The investigators are now proceeding with a phase 3 randomised controlled trial of 2mg avacincaptad vs sham.
Comment: Geographic atrophy is a major cause of vision loss in AMD, currently with no treatment. The complement cascade is a critical component of the innate immune system and is thought to play a key role in retinal degeneration due to AMD, hence is an attractive target for therapy. In 2018, we were disappointed when a complement factor D inhibitor, lampalizumab, was shown to be ineffective in phase 3 trials. This study suggests that there is still merit in pursuing the complement pathway; it will be very interesting to see the results of the phase 3 trial.
Ultra-response to ranibizumab: improvement by four or more steps in DR severity in the DRCR.net Protocol S study
Chiang et al
Ophthalmology Retina 2021;5:251-261
Review: This was a post-hoc retrospective analysis of two-year outcomes in the phase 3 diabetic retinopathy clinical research network protocol S (DRCR.net Protocol S) study – ranibizumab vs laser for proliferative diabetic retinopathy (DR). The purpose of this analysis was to quantify and evaluate those patients who had at least a four-step improvement on the Early Treatment of Diabetic Retinopathy (ETDRS) Diabetic Retinopathy Severity Scale (DRSS). The participants were those patients randomised to receive treatment with ranibizumab with sufficient baseline severity to allow a four-step improvement. Approximately 30% of participants achieved an ultra-response at years one and two, with 75% of those achieving this in year one maintaining the result. At year two, the ultra-responders had gained more than five additional ETDRS letters than those without the ultra-response. Factors predictive of an ultra-response included: vitreous haemorrhage at baseline, increasing age, absence of epiretinal membrane and glycosylated haemoglobin below nine. Mean number of injections did not predict the response.
Comment: The possibility of as many as 30% of patients responding with such a big improvement in the DR level suggests that there is benefit in treating PDR with anti-VEGF injections rather than laser. However, it is vital that the patients are not lost to follow-up, and where continued intensive monitoring and treatment cannot be guaranteed, laser may still prove the safer option.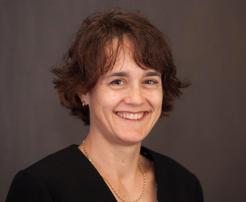 Dr Rachel Barnes is a consultant ophthalmologist and medical retina specialist. She practices in Auckland at Retina Specialists and at the Greenlane Clinical Centre, where she is the clinical lead for medical retina.