Run for your eyes – motion over potions
As a medical student in Oxford, UK, in the 1990s, I was fortunate enough to be lectured by the late Dr David Sackett, considered one of the pioneers of evidence-based medicine (EBM), defined as the integration of the best research evidence with clinical expertise and patient values. As well as being an inspiring lecturer, Dr Sackett founded the Oxford Centre for Evidence-Based Medicine and The Department of Clinical Epidemiology at McMaster University, Canada. EBM is now considered one of medicine's most important developments in the last 25 years.
However, in March 2022, The British Medical Journal published 'The illusion of evidence-based medicine'¹, the contents of which should concern all healthcare providers. The article explains that the foundations of EBM remain reliable data from well-conducted clinical trials, which are usually conducted by pharmaceutical companies and reported in the names of senior academics. The authors argue that the links between academia, research and the pharmaceutical industry have become so entwined that they prevent true scientific objectivity and impartiality.
Prevention vs cure
How does this affect ophthalmology and eyecare? I feel fortunate to be able to offer, for example, cataract surgery, which has an undeniable effect in restoring sight and improving a patient's quality of life. The results are easily measurable and the risks attached to surgery are small. A non-surgical treatment for cataract is not yet available and prevention is also very difficult, given the majority of cataracts develop with age (although research continues in this area).
But as health professionals, how much of our time and resources should we direct towards treating these conditions and how much towards prevention? My concern is not that we use medicines and surgeries that don't benefit our patients, it's the omissions – what are we overlooking that is not promoted through the pharmaceutical and medical technology industries? Who promotes, researches and endorses exercise, diet changes, alternative therapies and lifestyle choices for preventing and treating ophthalmic diseases? While there is published research that has looked at these areas in eyecare, often it's relatively low-powered with small numbers of participants and confounding factors.
Discussion of alternative treatments and lifestyle changes with patients is often left to healthcare professionals. Why is that responsibility to prepare and educate our burden, rather than each industry? Why, for example, when promoting a treatment for type 2 diabetes is a company not compelled to equally promote the benefits of exercise? Ultimately, I suspect it's something to do with free markets, profits and mantras like 'regulation destroys innovation'.
So when we see patients with macular degeneration, glaucoma, diabetic retinopathy or even myopia, how much of our management involves treating these conditions and how much is prevention?
Off the couch, off the meds?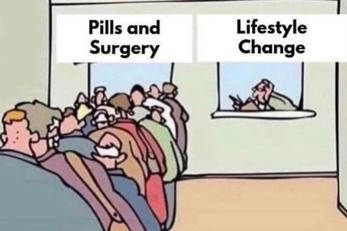 Physical activity is a strong determinant of overall health and wellbeing. There is strong evidence that regular exercise can significantly reduce your risk of cardiovascular disease and diabetes. It also has a neuroprotective effect, with regular activity improving brain function and reducing your risk of neurodegenerative diseases such as Alzheimer's and Parkinson's disease. Given that the eye shares the same embryonic origins as the brain, it's no surprise that exercise can also play a role in preventing ocular disease. Here's a snapshot of the research highlighting that relationship.
AMD
McGuinness et al demonstrated that physical activity has a protective association with both early and late age-related macular degeneration (AMD)². Munch et al demonstrated that physical inactivity was associated with drusen³. Knudtson et al showed that an active lifestyle over a 15-year period reduced the risk of developing AMD by 70%⁴.
Myopia
Rose et al showed that, while not directly related to exercise, increasing the amount of time children spend outdoors reduces the risk of significant myopic progression⁵.
Glaucoma
Exercise may reduce glaucoma risk, since it's thought to reduce the risk of low ocular perfusion pressure. The aged optic nerve in mice has been shown to be protected from IOP-induced damage by forced physical activity⁶.
Physical activity is well known to upregulate the formation of brain-derived neurotrophic factor (BDNF), which is important in the maintenance, growth and survival of neurons. Lower BDNF levels are observed in sedentary patients with glaucoma⁷.
Diabetes
Physical activity has been shown to reduce the incidence of type 2 diabetes mellitus by 58% and is more effective than metformin at preventing the disease⁸. Physical activity not only reduces the risk of disease development but also decreases the likelihood of developing severe diabetic retinopathy⁹.
What can we do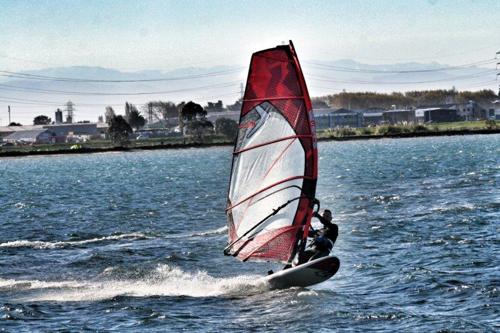 Get fit – make exercise part of your family's life. If the industries and institutions are not going to champion unprofitable treatments, then as healthcare professionals we must! Tell your parents, tell your siblings, tell your children, tell your friends and tell your patients that exercise saves sight – they should do it every day.
References
Jureidini J, McHenry L, BMJ 2022; 376:o702
McGuinness et al, AM J Ophth August 2017
Munch et al, Invest OPhthalmol Vis Sci 2013; 54:3932-40
Knudtson et al, Br J Ophthalmol 2006; 90: 1461-3
Rose et al, Ophthalmology 2008 Aug; 115(8):1279-85
Chrysostomou V et al NeuroBiol Aging 2014;35:1722-5
Ghaffariyeh A et al Optom Vis Sci 2011;88:80-85
Tuomilehto J, N Engl J Med 2001;344:1343-50
Loprinzi PD, Prev Med 2016;87:18-21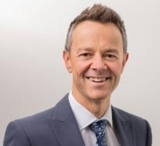 Dr Baddeley is a consultant ophthalmologist at St George's Hospital, Christchurch. He specialises in cataract surgery, glaucoma and oculoplastic surgery. Windsurfing and the outdoors are an important part of his life. He's completed a sub-90-minute half-marathon and numerous triathlons, including two two Ironman 70.3 events. His 5km personal best remains stubbornly just over 19 minutes.