Celebrating excellence in eye research
The University of Auckland's 2021 Excellence in Ophthalmology and Vision Research awards evening was a celebratory affair, especially given the cancellation of last year's awards due to Covid and the muted event the year prior in the wake of the Christchurch terror attacks.
Annual master of ceremonies and the Maurice and Phyllis Paykel chair in ophthalmology Professor Charles McGhee, shared the department's incredible achievements and growth over the past 22 years. Illustrated by some amusing pictures of a few senior staff members' younger selves, Prof McGhee highlighted how with the support of some generous benefactors the ophthalmology department had grown from a staff of just six to 26 senior faculty members, including six professors and seven postgraduate doctoral research fellows overseeing 19 PhD or master's studies this year. He also highlighted the uniquely positive relationship between optometry and ophthalmology in New Zealand, exemplified by the research work of the university, where students seamlessly cross between ophthalmology and the School of Optometry and Vision Science, undertaking a range of different studies according to their personal interests, often co-managed by staff from the two related departments.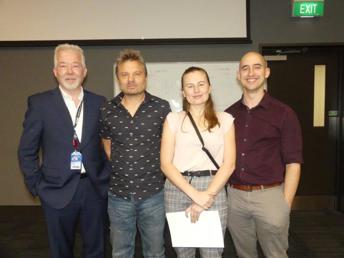 Prof Charles McGhee, Ouday Almouk, award winner Jessica Hodson and John Hodson
In an unusual turn, one of those renowned benefactors, retired ophthalmologist Associate Professor Bruce Hadden, took the opportunity, on the back of what everyone agreed had been a tough year, to personally congratulate and thank Prof McGhee for being the driving force behind the outstanding development of the department and its research standing on the world stage. Some of that research was shared on the evening, with the PhD presentation given by Auckland ophthalmologist Dr Peter Hadden, son of A/Prof Bruce Hadden and chair of the RANZCO NZ Branch, who discussed his work into penguin vision, which he hopes will contribute to their continued survival.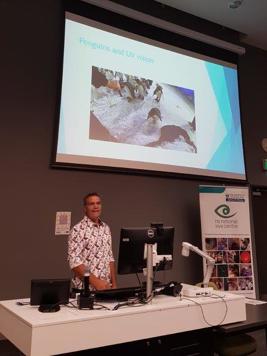 Dr Peter Hadden discussing penguin vision
Prof McGhee also paid tribute to his retiring colleagues Professor Emeritus Colin Green* and ophthalmic nurse Sue Raynel, the New Zealand National Eye Centre (NZNEC) research and development manager and champion of all things ophthalmic nursing in New Zealand. Two others singled out for special mention were glaucoma specialist Professor Helen Danesh-Meyer for being recognised in the international 2021 Top 100 women in ophthalmology power list* and newly appointed Professor Jennifer Craig, head of the university's Ocular Surface Laboratory, who'd accompanied Prof McGhee from Scotland more than two decades earlier.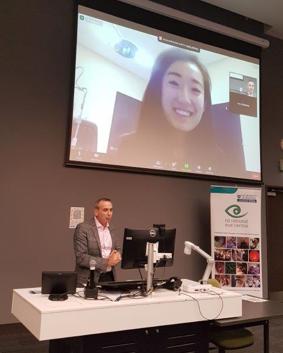 Prof Trevor Sherwin virtually presenting the William MacKenzie medal to Dr Ye Li (on screen)
The main event, however, was the awards. The undergraduate summer scholars, who'd had their own event in April*, were again recognised, with the main awards presented to:
Drs Jessica Hodson and Nicola Kluger – The Calvin Ring Undergraduate Prize for the best all-round student in clinical ophthalmology
Dr Ye Li – The William MacKenzie Medal for early excellence in eye research
Dr Riyaz Bhikoo – The Arthur Thomas Paterson Postgraduate Scholarship, a prize he also won in 2019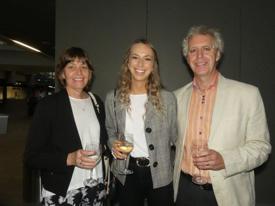 Dr Nikki Kluger (centre) with her parents Drs Fiona Brow and Michael Kluger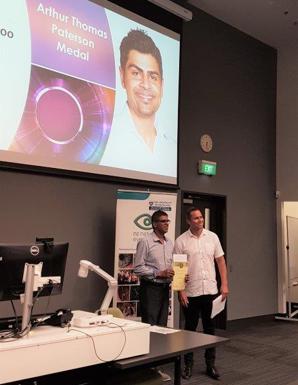 Dr Will Cunningham (R) presenting the award to Dr Riyaz Bhikoo's optometrist father, Younus Bhikoo
Related stories