Eyewear trends aren't just about the glasses on your face. Here Jai Breitnauer checks out some of the cool bits and bobs spectacle users can buy from practices to enhance their look and their eyewear-wearing experience.
I read an interesting article last August about how Covid-19 is changing fashion. In Europe, most of this season's clothing collections are headed up by soft fabrics and chunky knits more suited to the sofa than the catwalk. Meanwhile, according to the 'lipstick index', which measures cosmetics sales, makeup sales have tanked in favour of skincare products as people opt for a natural, Zoom-ready look.
When it comes to eyewear, the picture is similar. This increasingly fashion-led industry was predicted to enjoy a millennial-driven expansion of 8.5% from 2021 to 2028. Valued at US$147bn in 2020, international consumer-trend research companies Marketwatch and Euromonitor both agree the industry is on track for predicted growth – but the drivers have shifted. As people spend more time at home, and more time online, the focus of sales seems to be on practical products that make the life of the glasses-wearing home worker easier. For example, anti-fatigue and blue-light-cancelling products are on the up.
Unlike Europe, New Zealand and most parts of Australia have endured fewer Covid-19 restrictions. But home working, catching up with family online and holding international meetings via conferencing software have all increased. The result is a similar subtle shift for eyewear users toward the practical, and this is where accessories come in.
'Now where did I put…'
Research released in 2017 by digital tracking-device manufacturer Pixie found the average American spent 2.5 days a year searching for lost household items, with replacements costing the economy US$2.7bn annually. Glasses came in at number four on the list of most losable items, with millennials twice as likely as boomers to misplace something. Perhaps because the younger generations are the biggest losers, it is the tech industry that has come to the rescue.
"Losing valuables (like glasses) is not only frustrating, but it can waste time, result in an expensive mistake and lead to unnecessary arguments," says CEO of Pixie Technology, Amir Bassan-Eskenazi. Pixie's tech includes Bluetooth trackers that attach to your losable objects, which connect to an app on a smartphone.
"Pixie does not rely on sound alerts to find an item, but rather shows people exactly where their item is located through an advanced augmented-reality app interface."
The Orbit tracker is a similar piece of tech developed specifically for glasses. It sticks discreetly to the arm of your specs and sets off an alarm if you try and walk away without them. It has inbuilt GPS that will track your glasses from up to 30m away and connects to an app that shows you where they are on a map.
Low-tech, high fashion
Discreet digital gadgets are cool, but there are many low-tech solutions too. And practical doesn't have to mean unfashionable, says Michele Quastel, creator of wearable glasses holder, Le Kevin.
"I admit that I didn't fully understand glasses were a glamorous accessory. I thought they were a grudge purchase," she says.
But when Quastel had to start wearing glasses herself, she designed a wearable pendant to hold them when she didn't need them – something simple and well-crafted, in keeping with her own personal style. "One day I walked into a shop and the guy behind the counter said, 'I need one of those!' The next time I went to the theatre, I realised all the guys had their glasses on their head because they didn't have a handbag to put them in."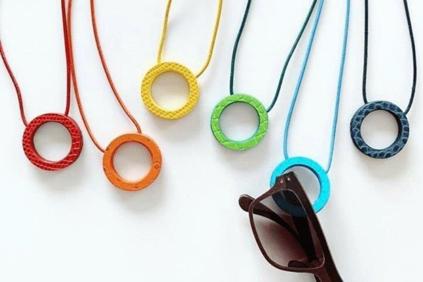 Le Kevin
Quastel made the decision to start a business selling her delicate leather glasses accessory, which she named Le Kevin, after the first French craftsman she worked with. They are now handmade in Germany. "Optometrists love them because they are soft," she explains. "They don't scratch the lenses or stretch the arms of your eyewear. Wearers love them because they are so stylish and versatile."
A similar product, La Loop, is made by an American company that designed its first dual-purpose necklace and glasses holder 20 years ago. Its core offering is metal loops worn either on a necklace chain or with a material neck strap. It also offers a more durable sports range, perfect for the upcoming winter snow season.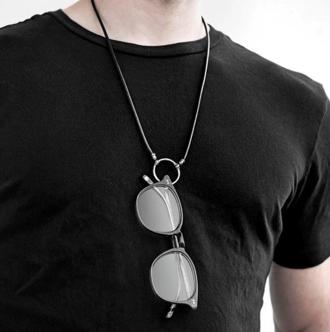 La Loop
Emboldened chain gang
As well as these more creative solutions to not losing your specs, we are also seeing a reinvention of a more old-school approach. Previously the preserve of 90-year-old grannies, glasses chains are increasingly being seen on the high street and the catwalks. But these aren't your delicate metal chains of old, they're big, chunky acrylic chains – statement pieces that are more like jewellery than anything else.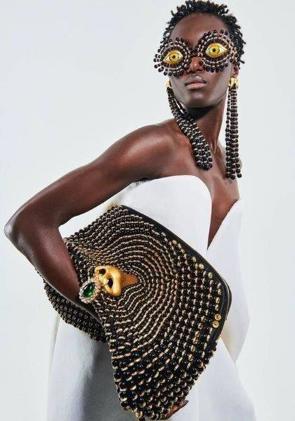 Schiaparelli haute couture
The marketing team behind Caroline Abram says the trend in optical accessories is getting "bolder every year!" More and more brands are finally daring to offer more colourful and audacious accessories, pushing the extravagance boundaries like Italian haute couture fashion house Schiaparelli, they say.
"Fashion is an eternal restart and the most interesting thing for a designer is to reinvent and revive memories from the past. It's true that chains are part of our grandmother's culture and the way to make it more fashionable is to design it oversized and colourful. Caroline's thing is to make it match perfectly with the frames: acetate, velvet, pearls… everybody can find the perfect chain!"
Women want to look different, say Abram's team, and glasses are one of the best ways to express themselves. Accessories such as chains are an extension of that. "Caroline designs collections that push women to dare to express who they are and to wear what they feel good with."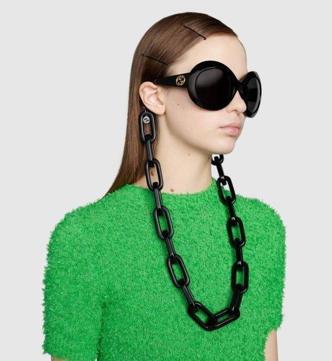 Gucci
Gucci is another to jump on the emboldened chain wagon, offering super-sized resin chains, perfect for oversized acrylic frames. But with prices starting at US$340, these are definitely an investment fashion piece with a practical twist, not a function-led purchase. Spanish eyewear-turned-clothing fashion design brand Kaleos, meanwhile, offers slightly more delicate versions, while ethically aware UK brand ASOS has decided to focus on more affordable braided gold and leather chains for men.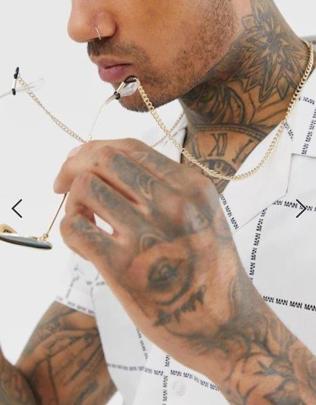 ASOS
UK-based Frame Chains offers a great line in chunky wrist and neck bling that also has practical uses. With bold chains for both your glasses and your phone that you can wear around your neck or your arm, these unisex pieces are aimed at the younger wearer with a more 'street' fashion appeal. Prices start at NZ$120 direct from framechain.co.uk.
A magnetic look
For glasses-wearers looking for a subtler approach, magnetic frame holders are a good choice. They clip onto your clothes without damaging them and provide a handy loop to slide your frames into. With the option to have something very discreet that blends in, or a crafted piece made to look like a brooch, there is certainly a lot of scope. Readerest, a success story from US TV series Shark Tank, offers a range of magnetic holders starting at US$9.99. They ship globally direct to the customer but are also available for wholesale supply to bricks-and-mortar stores.
Readerest
Accessories for glasses, be they high tech or high fashion, are definitely trending and are a great way to upsell to your patients looking for a good solution to that age-old problem of, 'Honey! Where are my specs?'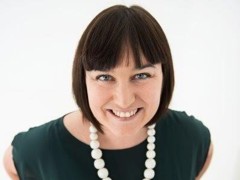 Jai Breitnauer divides her time between New Zealand and the UK (pandemic restrictions allowing). She has a particular interest in retail and sustainable business and is currently working on her second book about how epidemics affect public healthcare. She lives with her husband and two children, one of whom is autistic, in Bristol and is a regular contributor to NZ Optics.