Expanding sales with virtual ingenuity
In today's world there are so many things that 50 years ago would've seemed like something out of a sci-fi novel. Being able to ride in a self-driving vehicle or texting someone from a smartphone that's small enough to fit in our pocket is now normal. In the past, these ideas weren't even within the realm of possibility. The same can be said for modern eyewear technology. Today we can choose between incredibly sophisticated frame materials and styles, providing far superior fit and comfort, with high-tech lenses offering superior visual clarity and protection, whatever our script.
Manufacturing aside, with the introduction of virtual try-on technology, even the process of purchasing eyewear in 2021 seems futuristic. A patient used to have to visit their optometrist to try on glasses and select the right option for them, but now, from the comfort of their own home, they can browse dozens of styles and find the perfect frame for their face shape without having to move from the couch – a great advantage during a pandemic.
For optometrists and dispensing opticians eager to embrace new ideas, virtual try-on technology can also be an asset. Yes, there are concerns; it poses some logistical questions - will try-on technology replace the need for opticians? Does this tool threaten the livelihood of established optometry practices? Indeed, when Silmo Next, the much-lauded European eyewear show's annual look into the future of optometry, proposed in 2019 that the practice of the future might not have any eyewear displays*, there was something of an outcry.
But rather than feel as if try-on tech is a competitor, there are ways for eyecare professionals to use it to their advantage and better serve their patients.
What try-on entails
Before jumping into the benefits of this technology, it's important to understand the nuances of try-on services and how patients can use them. Depending on the company offering the technology, virtual try-on services may look one of several ways. Some have designed their process to be straightforward, asking customers to upload a headshot and then allowing them to overlay images of different frames on their photos. Others use your computer's camera to offer a more immersive experience for the consumer, where they can select multiple frame styles and lens colours to see how they'd look from nearly any angle. Then there are companies such as FittingBox, which provide large window and in-store interactive technology displays. With virtual try-on technology bringing an entirely new eyewear experience to patients, many professionals are wondering how this can complement their practice rather than detract from it.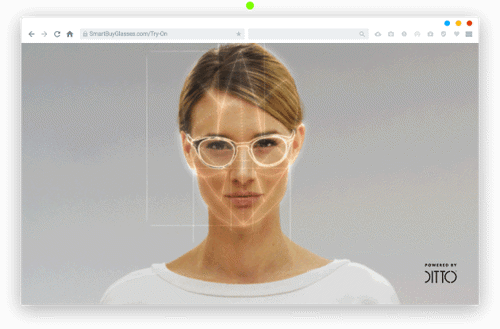 Virtual glasses try-on
Understanding the customer benefits
Virtual try-ons shouldn't be seen as a replacement to the services you provide; instead, they work to enhance the overall shopping experience. Stuart Cannon, general manager, Asia Pacific, of Transitions Optical, explains how this technology can be a win-win for patients and practices. "Most consumers conduct research before buying a product because they want to make informed decisions – virtual try-on feeds into this research process. If the virtual try-on is compelling, they are more likely to extend themselves and purchase a more premium product as they can appreciate the added value, which of course increases practice profitability."
Patients are incredibly savvy when it comes to price shopping, so it makes sense that practices would want to entice them to virtually try on frames before they draw attention to the price tag.
Are there downsides?
It's normal for dispensing opticians and optometrists to have a spark of fear in their hearts when it comes to virtual try-on services, since some might wonder if their role in purchasing eyewear will eventually become obsolete. While styling a patient in their dream frame may be a task that virtual try-on technology can help with, there's no replacing the traditional shopping experience.
Dispensing opticians and optometrists should remind patients that a virtual try-on isn't the same as actually wearing a frame. Head of ecommerce, CRM and strategic partnerships at Specsavers ANZ, Dario Garma explains, "While virtual try-on tools are great to give a customer an idea of what glasses will look like on, and what may and may not suit their face shape, most customers still want to try on the actual product and understand what the frames feel like on – things like fit, size, weight (and) temple length. And of course, there are lens and prescription considerations, which are best handled in-store by a trained professional."
Years ago, the idea of virtual try-on services was slow to be embraced by patients, as the technology used wasn't incredibly accurate but, as with most concepts, it has come a long way. "It will certainly continue to improve, becoming more and more realistic, as per the advancements in digital technologies seen throughout all industries," says Cannon.
Making virtual try-ons work for you
Since the global pandemic has changed the way we interact with patients, the increased use of try-on technology may be a blessing in disguise. If and when we return to 'normal' around the world, there's no reason not to continue encouraging patients to try on frames in this way as part of their purchasing experience through your own practice.
"Optometry practices can use virtual try-ons as an added option for customers who are interested in using browsing before coming into store as it can assist them with their purchase decision," says Garma. "Ahead of their appointment, customers can be prompted to click through to view the range of glasses available and create a list of favourite frames before their visit.
"Virtual try-ons can be promoted as a helpful tool for all customers, especially for first-time glasses wearers, customers who love to browse online, time-poor customers and for customers with high prescriptions."
So perhaps it's time to invest in some virtual try-on technology for your practice and let your patients 'have a go'.
*https://eyeonoptics.co.nz/articles/archive/tour-of-tomorrow/
Courtney Elder has more than 10 years' optical experience and loves wearing fashionable eyewear in Portland, Oregon, USA. Today, she works as a freelance writer and loves all things specs-related.