New study to evaluate the best method of assessing ocular inflammation in DED
Inflammation is a key feature of the self-perpetuating vicious circle in the evaporative and aqueous forms of dry eye disease. Therapeutics aim to break this cycle and reinstate tear film and ocular surface homeostasis. But given today's vast range of available and developing therapeutic options, adequately matching a patient's disease type and management strategy has become an increasingly critical component of care.
To help clinicians make evidence-based decisions, the battery of clinical diagnostic tests to identify and subclassify dry eye disease needs to reflect the inflammatory component of the disease process. Typical clinical options to detect inflammation include observing conjunctival hyperaemia and more indirectly by assessing corneal and conjunctival staining.
Recently, dedicated point-of-care tests for biomarkers of inflammation such as the enzyme MMP-9 (gelatinase-B) have been introduced commercially as in-office immunoassays. However, these methods of detecting ocular surface inflammation are non-specific to dry eye disease, so determining the correlation between clinical signs and dry eye disease remains a challenge. There are further limitations, since the output of point-of-care MMP-9 testing is binary, with a 'positive' or 'negative' outcome, rather than offering a quantitative measure of inflammation which might aid clinicians in making more targeted diagnostic and management decisions.
A new study at the Ocular Surface Laboratory aims to evaluate the optimal method of assessing ocular inflammation specific to dry eye disease. This Master's-level project is supervised by Professor Jennifer Craig and Dr Alex Muntz and is expected to be completed by early 2022. Droplet digital PCR (ddPCR) will be used to quantify known biomarkers of inflammation present in dry eye disease from conjunctival impression cytology samples. The laboratory results will be compared against current subjective and objective clinical methods of determining ocular surface inflammation in everyday practice, with a view to providing recommendations regarding the most sensitive and specific clinical tests. In addition to furthering our knowledge and ability to evaluate inflammation in dry eye disease in clinical settings, the results are anticipated to prove useful in designing more efficient, patient-specific therapeutic strategies.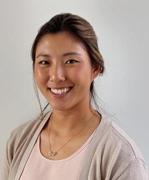 Catherine Shon, BOptom (Hons) is an MHSc student in the University of Auckland's Department of Ophthalmology.