SOVS' mobile optometry clinic hits the road
Twelve years in the making, Vision Bus Aotearoa was officially launched on 10 June at a University of Auckland ceremony attended by Governor-General Dame Cindy Kiro.
Having just returned from the Queen's 70th jubilee in London, Dame Cindy congratulated the School of Optometry and Vision Science (SOVS) on this wonderful initiative and joked she was looking forward to some free optometry advice when inspecting the bus. "The Vision Bus ticks many boxes, providing training for students and changing lives while providing knowledge and data for future research."
The state-of-the-art bespoke mobile eye clinic allows SOVS to expand its school vision screening programme to include full eye examinations in the wider Auckland region. The bus will not only provide greater access to eye healthcare for those communities most in need in Auckland but also highlight how access to eyecare is an issue for many, particularly Māori and Pacific communities, across Aotearoa, said SOVS' Professor Steven Dakin, who has championed the Vision Bus for the past five years. Cost is a significant barrier to accessing eye healthcare in New Zealand, with one in 10 Kiwi schoolchildren needing glasses who don't have them, he said. "This is concerning because if they don't have good visual correction they can't see whiteboards, which impacts education. For adults, the model in Aotearoa is that the customer pays but, in Australia appointments are subsidised."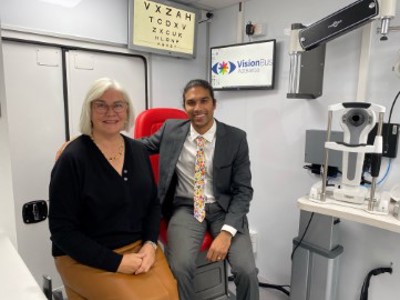 Barbara Blake with optometrist, teacher and driver Veeran Morar inside the kitted-out Vision Bus
Australia's first national eye health survey found the most common cause of visual impairment was uncorrected refractive errors (63%), where people don't have access to the glasses they need, or cataracts, where people don't get the surgery they need. "We don't have the same data in Aotearoa, but the situation is likely to be as serious here," said Prof Dakin, reminding the audience about the important call for our own national eye health survey (see notice on p30 about how you can help).
Vision Bus Aotearoa is currently funded entirely through philanthropy through the generous donations of the Fehl family, the Blake family, Essilor and the Buchanan Charitable Foundation - https://www.nzoptics.co.nz/articles/archive/generous-gifts-to-improve-equity/