Striving for equity in eye heath
He aha te mea nui o te ao? He tangata he tangata he tangata. What is the most important thing in this world? It is people, it is people, it is people.
This Māori whakataukī (proverb) is well-known by many in Aotearoa. However, it doesn't have any greater application than in the world of healthcare. In recent years there has been an increased focus on the Indigenous people of Aotearoa and their poorer health outcomes, lower representation in research and lowered access to healthcare.
In his book Whaiora, Sir Mason Durie said, "Despite Westernisation of Māori through colonisation, systemic racism and years of socioeconomic oppression, cultural heritage and tikanga (Māori practices and values) continue to shape Māori ideas, attitudes and reactions to health." This statement highlights the importance of considering all facets of life and beliefs when engaging with Māori patients. Fortunately, Durie's concerns are now being addressed.
Eyecare is one area of medicine where there's an increasing focus on Māori health. Historically, there have been inequities in this field, with Māori over-represented in terms of diseases such as diabetic retinopathy, keratoconus and cataract. As a junior doctor in training, although passionate about ophthalmology and equity, I'm no expert in this field. However, there is a clear need for increased health equity within ophthalmology and holistic engagement with Māori communities to improve healthcare outcomes. As New Zealand clinicians, with a responsibility to work towards achieving equitable health outcomes for Māori, we are able to acknowledge the mana (status or importance) of Te Tiriti O Waitangi.
The eyes are considered tapu (sacred) to Māori. As clinicians we have an opportunity to acknowledge these beliefs and ensure we engage with our patients in a way that not only respects their whakaaro (intention) but simultaneously enhances their mana. It is by relationship-building (whanaungatanga) and enhancing trust and manakitanga (kindness to others) that we will effectively engage with our tangata whenua (Indigenous hosts).
The journey towards cultural safety, health equity and mana-enhancing practice, begins with creating a kaupapa (level surface) approach to ocular research. The Ocular Surface Laboratory (OSL) in the Department of Ophthalmology at Auckland University is already on this journey. Over the course of six months, from December 2020, members of the OSL took part in cultural competency workshops hosted by Iwi United Engaged Limited (IUE), expertly led by Misty Edmonds and Dr Kevin Roos, well known for their critical roles in the design and delivery of the Bachelor of Nursing (Māori) programme at the Manukau Institute of Technology. Within this partnership, Professor Jennifer Craig's team has embarked upon the creation of kaupapa frameworks on which to build their research when engaging with Māori participants.
Work is also underway to encourage the involvement of Māori participants in research, as well as equipping Māori students and clinicians to be involved in ophthalmology research and care. This 'by Māori, for Māori' approach is a powerful catalyst in the process of addressing health inequities. Not only does it empower our Māori researchers, clinicians and patients, but it also provides a unique opportunity for all eyecare professionals to experience the beauty of hauora (health) and tikanga (customs of) Māori.
It is encouraging to see such efforts in the pursuit of Māori equity. Although the road ahead is long and unfamiliar, who better to lead the way than those who enhance vision?
Ma nga karu e whakamarama te haerenga na roto i te ora. The eyes will illuminate the journey through life.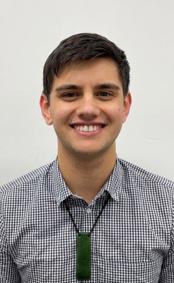 Isaac Samuels is a fifth-year medical student at the University of Auckland.