The joys of optometry learning, virtually
Optometry Australia hosted its 2021 instalment of Optometry Virtually Connected (OVC) at the end of June, with more than 2,400 delegates logging in. As well as the virtual conference, there were online exhibitors, a poster presentation and even entertainment! I must admit, however, that I was still asleep while the yoga session was taking place; but that was part of the beauty of this conference – I could go to work on Saturday, watch the on-demand lectures in the evening, attend the conference live on Sunday, and catch up on the lectures I missed on Saturday throughout the following week!
Even though I'm an O=Mega aficionado, I see OVC being a staple in the future of continuing education in optometry. It's convenient for people who have work or family commitments, allows us to hear from speakers overseas (such as Dr Jim Thimons from Ophthalmic Consultants of Connecticut in the US, who presented at 1am his time!) and still has optional quizzes that allow you to gain CPD. You can even download the CPD quizzes for reference and replay lectures up to 90 days after the conference, which I feel improved my learning retention.
The lectures were divided into on-demand and live presentations. The former were pre-recorded and accessible at any time, and curated to cover foundational elements of practice including diabetes and eyecare, an OCT masterclass, management of choroidal naevi, ortho-k for myopia control, and low vision. The theme for this year's live presentations was embodied by keynote speaker Professor Sohail Inayatullah, from the Graduate Institute of Futures Studies at Tamkang University in Taipei, Taiwan, who covered key shifts in optometry and eyecare, including technology advancements (from genetic testing to AI) and clinical and patient care.
Patient care
Melbourne University Associate Professor Mark Roth's presentation was most engaging. A great example of practising in the "medical optometry ecosystem" (as he put it), he encouraged a greater scope of care by signing up for a medical pathology lab. From there, you can access patients' medical test results, send off corneal swabs before initiating treatment for anterior eye issues (which helps with clinician confidence as you can always adjust treatment after receiving the scrape results) and even order blood tests. This is not only good for your scope of care, he said, but also your education and your diagnosis confidence, for example, if your patient has an anterior eye finding related to an autoimmune condition. It also enables you to have better and more active relationships with other healthcare providers, such as GPs and compounding pharmacies.
Honorary mentions from the patient-care sessions also include University of New South Wales (UNSW) Associate Professor Maria Markoulli, who will be editing a Clinical and Experimental Optometry (CXO) special edition on systemic conditions, so be sure to keep tabs on that; myopia specialist Dr Kate Gifford; and UNSW's Centre for Eye Health glaucoma/neuro-ophthalmology unit head Dr Jack Phu. Drs Gifford and Phu discussed the importance of patient communication and presented downloadable infographic tools on myopia control and glaucoma, respectively. These focused on patient risk factors and systemic health status, allowing for better personalisation of patient management programmes.


Artificial intelligence (AI)

There has been a lot of research done on deep learning/AI and its uses within eyecare. Sophia Zhang, senior staff optometrist at the Centre for Eye Health, explained the barriers to its implementation, which included false negatives and positives; ungradable images; applicability to different ethnicities, ages and genders; the black-box effect; and it being less economical due to manufacturer's liability. However, the positives outweigh the negatives for increased screening by non-health technicians; for example, AI for fundus camera imaging has been developed and will become commercially available in the near future. This is likely to play a far greater role in screening for eye disease, microvascular health and cardiovascular disease risk in telemedicine, community-based screening programmes (such as for Indigenous health) and within GP and optometry practices.
Melbourne University Associate Professor Lauren Ayton also explained some of the lesser-known benefits, such as software updates to match new biomarkers as research progresses – the presence of reticular pseudodrusen emerging as a biomarker for AMD being one example. This will make it easier for us as clinicians to keep up and to streamline our health assessment process.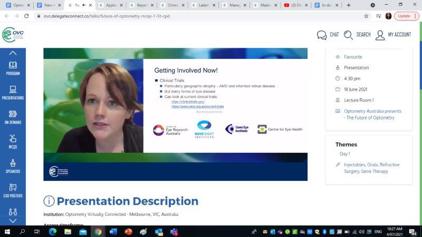 A/Prof Lauren Ayton
Research is also underway into AI and macular pathology, as well as corneal pathology and glaucoma (which seems to be the most difficult to get right). Another indication for AI is linking it with medical interventions, such as the 'bionic eye', helping people recognise obstacles or barriers in their path and more complex, perceptual tasks such as facial recognition.

Gene therapy

Gene therapy is now commercially available – specifically, to address the RPE65 mutation that causes Leber congenital amaurosis – with a lot more trailblazing advancements expected as this area of ocular research continues to grow. The eye is ideal for gene therapy, A/Prof Ayton said, as it has favourable immunologic properties – there is a lack of direct blood supply to the outer retina, it has no lymphatic system and it has 'immune-deviant' properties; ocular adnexa also serve as a physical barrier and protection for the eye; and retinal cells do not divide after birth, so transgene expression may persist indefinitely, undiluted by cell division.
Although monogenic inherited dystrophies are far simpler to treat than more complex pathways that require an effect on many genes, there is scope in the future for genomic testing and protective changes for conditions such as diabetic retinopathy, AMD and glaucoma. There is also a gene therapy trial underway for geographic atrophy cases with a rare genotype. Community optometry plays a key role in these advancements as this is where much of the recruiting is taking place (https://clinicaltrials.gov; https://www.cera.org.au/current-trials).

Showing, flowing, GONE
Centre for Eye Research Australia (CERA) Professor Mingguang He discussed the GONE project, a readily accessible online tool which facilitates optic disc classification for glaucoma. It uses the model of test-teach-retest to help optometrists strengthen their optic nerve examination skills by completing online optic disc assessments with feedback, which is really useful as a refresher and confidence booster.
Also focusing on glaucoma, Dr Thimons evaluated the Falck Medical Multifunction Device, which measures not just IOP but also tonography and ophthalmodynamometry. As he put it, what HbA1c is to a pinprick blood sugar measurement; tonography is to IOP. Tonography is an optical aqueous humour outflow measurement; a reduced reading (below 0.18mmHg) can be indicative of increased trabecular meshwork resistance, as well as increased IOP fluctuation. Monitoring tonography readings can help with the evaluation of outflow interventions, such as assessing therapeutic efficacy of a prostaglandin analogue, and glaucoma risk assessments. Ophthalmodynamometry measures mean central artery pressure (MCRAP) during multiple cardiac cycles. The difference between MCRAP and IOP is the true ocular perfusion pressure (OPP); reduced OPP being a risk factor for glaucoma progression. This tool is also useful for vascular assessment – for example, if your patient experiences amaurosis fugax; a pulsating sensation around their eye; or atypical aura – as it measures the complete blood supply flowing to the optic nerve. Anecdotally, Dr Thimons reported having six patients with an abnormal ophthalmodynamometry result and sent them for a vascular assessment. Each had some kind of systemic involvement and two had a carotid occlusion.
Zhang also discussed the indication of OCT-angiography (OCT-A) as a complementary tool. OCT-A images retinal microvasculature through motion contrast and with retinal nerve fiber layer (RNFL) loss, reduced capillary density can be observed. Another benefit is that the measurement floor for perifoveal capillary density is lower than for OCT RNFL and GCC thickness (25dB MD on VF compared to 13-17dB MD), making it useful for monitoring advanced glaucoma, while observing scans for reduced flow in the normally vascular areas of the optic nerve, peripapillary retina and macula can help with the differential diagnosis of non-glaucomatous causes of RNFL loss, including ischaemia. However, there are limitations, she said, including imaging artefacts and factors such as diabetes or antihypertensive medications affecting retinal microvasculature.
Overall, OVC was progressive in its delivery of optometry continuing education and presented an exciting future for us as optometrists.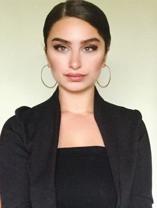 Australia-based optometrist Layal Naji is a lecturer of optometry at the University of Canberra and co-founder of the outreach optometry clinic at the Asylum Seekers Centre in Newtown, Sydney.